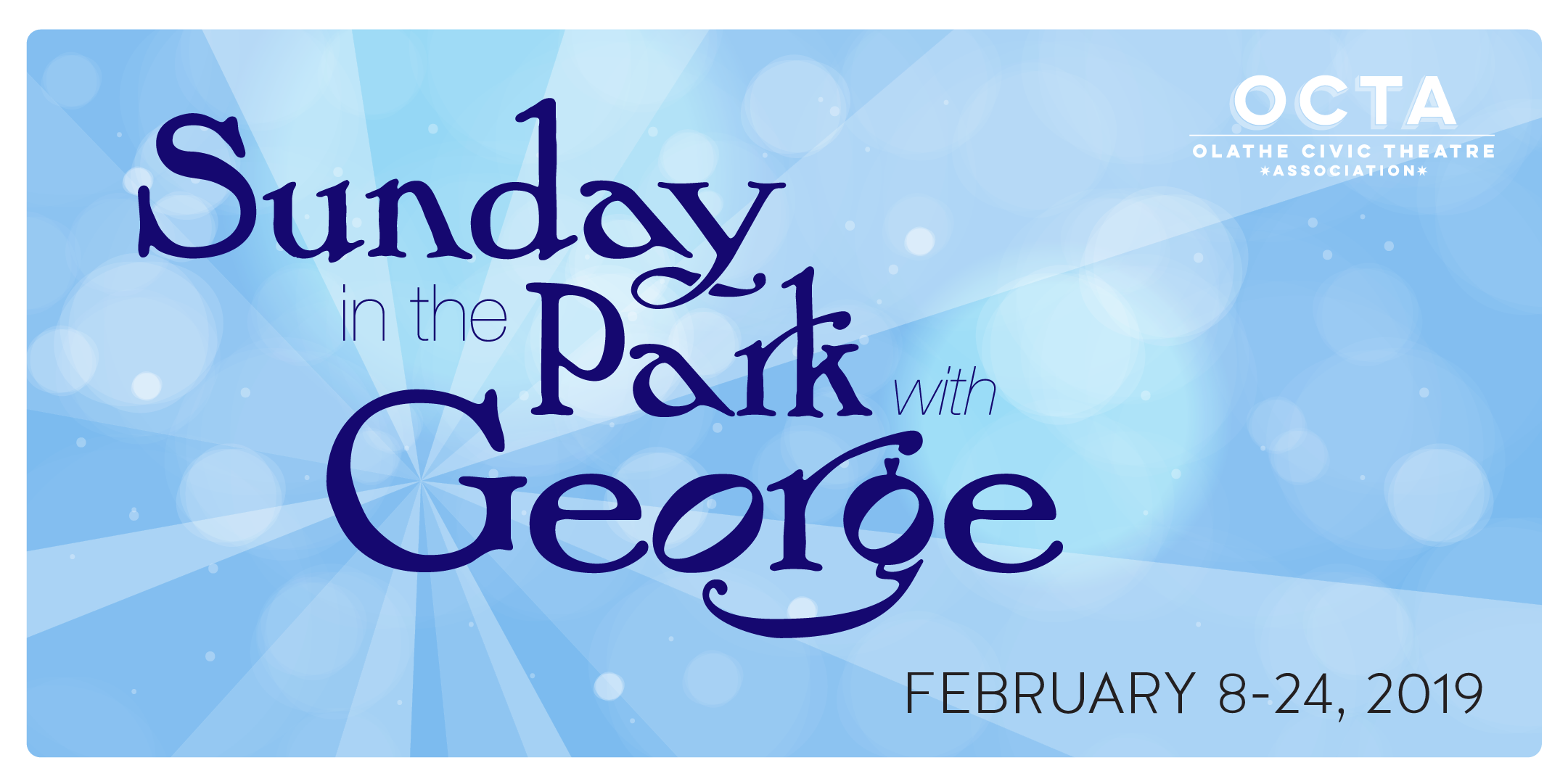 02 Feb

OCTA Opens Moving Musical, SUNDAY IN THE PARK WITH GEORGE

Sondheim Smash to Paint OCTA Stage with Sentimental Story of Love and Art

Olathe, KS (February 1, 2019) – Olathe Civic Theatre Association gears up for their first show of 2019, the musical SUNDAY IN THE PARK WITH GEORGE. Directed by Tiffany Coville-Schweigert, with music direction by Betsy Bledsoe, this musical runs February 8 – 24, Fridays and Saturdays at 8pm, Sundays at 2pm. Music and lyrics are by Stephen Sondheim and the book is by James Lapine.

Director Tiffany Coville-Schweigert is thrilled to bring Sondheim to Olathe. Previously, she has directed OVER THE RIVER AND THROUGH THE WOODS and THE 25TH ANNUAL PUTNAM COUNTY SPELLING BEE at OCTA. However, this show gives audiences almost two different musicals in one. She further explains: "Act One characters are completely different than Act Two. There is a 100 years difference between the two acts. Costume design is a challenge. We are designing for 1884 and 1984."

She appreciates the poignant and personal touches from the characters, notably from the two main characters, George Seurat and Dot/Marie, played by Joel Morrison and Victoria Strafuss. One of her favorite moments happens near the end of the show when 'Act II George' has an interaction with Dot from Act I in the song MOVE ON. "The lyrics really speak to me not only as an artist/director but as a person living in the world today."

As Tiffany says, "This cast is ridiculously talented. There are a few actors that OCTA patrons have never seen before so they are in for a real treat!" For patrons who know the artwork, but not the show, Tiffany exudes how much they are going love the show, because, "Sondheim and Lapine did Seurat proud. They have created a wonderful story and (it) gives insight on the characters in the painting." Audiences will also admire the staging and effort taken to draw them in to the world of the music: "We are really trying to keep it simple. Drawing focus to the characters and the music. I believe the audience will be blown away by the costumes and the beautiful voices on stage."

Next up for Tiffany is directing THE WIZARD OF OZ for Theatre in the Park's 50th season. For now, she is happy to come home to a theatre where directors, actors, and production staff are really taken care of. "It's such a pleasure and I cannot wait for the community to see SUNDAY IN THE PARK WITH GEORGE!"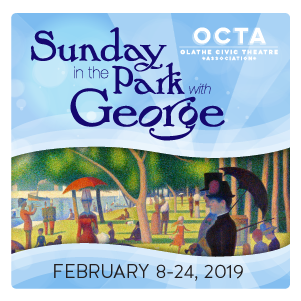 The talented cast includes: Joel Morrison (George Seurat), Victoria Strafuss (Dot / Marie), Debbie Blinn (Old Lady / Blair Daniels), Julie Fox (Nurse / Mrs. / Harriet Pawling), Scott Kruse (Jules / Bob Greenberg), Joy Richardson (Yvonne / Naomi Eisen), Spencer Thompson (Boatman / Billy Webster), Michael Golliher (Franz / Dennis), Kristen Alley (Frieda / Betty) Alec Bridges (Soldier / Alex), Chris Gleeson (Mr. / Charles Redmond),  Matt Runnells (Louis /Lee Randolph), Christina Casey (Celeste #1 / Elaine), Nancy Seeman (Celeste #2 / A Photographer), Abby Morrison (Louise).
The orchestra includes:
Reed 1 – Ron Mundt
Reed  – Jim Vinkenberg
Keyboard 1 – Matthew Fischer
Keyboard 2/Synthesizer – Deana Wagner
Percussion – John Gilmore
Violin 1 – Michael Turnbo
Violin 2 – Emily Gooden, Kim Ico
Cello – Kieran Ojakangas
The production team includes:
Director – Tiffany Coville-Schweigert
Music Director – Betsy Bledsoe
Stage Manager – Nicole Brewer
Asst. Stage Manager – Amanda Tufano and Ran Anderson
Set designer – Doug Schroeder
Costumes Designer – Brenna McConaughey and Alison Nickel
Lighting Designer – Phil Leonard
Sound Designer – Josh Finch
Props Designer – Em Loper
Projections – Tom Eagle
Tickets may be purchased with credit card, check, or cash. Free parking is available in the OCTA lot and on the street. Concessions are available for cash or credit donation and may be taken into the theater.
SPECIAL DATES:
*Opening night, February 8, 2019: Guests will be treated to a post-show celebration with the cast and crew!
About Olathe Civic Theatre Association
Olathe Civic Theatre Association (OCTA) is an all volunteer 501c3 organization producing theatre in Olathe since 1974. Performing in the Buddy Rogers Family Playhouse, OCTA produces five high-quality, engaging, and thought-provoking theatre productions a year. Through the generosity of volunteers, season ticket holders, donors, city, and community, in addition to a dedicated Board of Directors, OCTA has grown into one of the most progressive community theaters in the Kansas City metropolitan area. For more information, please visit www.olathetheatre.org
OCTA is a proud member of the Olathe Chamber of Commerce, Nonprofit Connect, Social Media ClubKC, and Olathe Arts Alliance. Many thanks to the Sunderland Foundation for their generous 2017-2018 grant. 
Social and Digital Media
Receive daily updates by 'liking' OCTA's Facebook page at www.facebook.com/olathecivictheatre and follow OCTA on Twitter at @OCTATheatre.
OCTA'S UPCOMING 2018-2019 SEASON 
SUNDAY IN THE PARK WITH GEORGE 
Feb 8 – Feb 24, 2019
Music and lyrics by Stephen Sondheim | Book by James Lapine
Directed by Tiffany Schweigert
A blank page or canvas. So many possibilities. A moving study of the enigmatic artist Georges Seurat and his famous painting, A Sunday Afternoon on the Island of La Grande Jatte, this stunning musical merges past and present into beautiful and poignant truths about life, love, and the creation of art. Winner of the 1985 Pulitzer Prize for drama and nominated for an astounding ten Tony Awards, this masterpiece by the legendary team of Stephen Sondheim and James Lapine will inspire you long after you leave the theatre.
SPECIAL EVENT – New Works Playwright Competition – March 1 & 2, 2019
Five finalists present 10-minute teasers of their scripts – audiences vote for the winner who will then receive a full-length workshop reading in July!
PASS OVER
Apr 5 – Apr 21, 2019
By Kansas City playwright Michelle Tyrene Johnson*
Directed by Teresa Leggard
The Washingtons, an African-American family, have lived next door to the Levy family in a Philadelphia neighborhood for a few generations. In the wake of the death of the Washington family matriarch, a brother and sister come together to bury their beloved grandmother. The finding of old stock, by the Washington family, in the Levy family business, triggers the revelation of secrets, tensions, and reckonings.
A FLEA IN HER EAR 
May 31 – June 16, 2019
A new version of Georges Feydeau's farce
By David Ives
Directed by David Martin
As Raymonde suspects her suddenly uninterested husband is having an affair, she cooks up a trap to catch him in the act. Hilarity ensues as everything inevitably goes horribly wrong triggering laughs galore. Touted as the "greatest of French farces", this dazzling comedy, and winner of the 2006 Jefferson Award for best adaptation, David Ives' version of Georges Feydeau's masterpiece achieves levels of glorious ridiculousness only an absurdist of Ives' caliber can bring.
SPECIAL EVENT – New Works Playwright Competition Winner Workshop – July 12 & 13, 2019
The full-length workshop reading featuring the winning play from the March finals!
###
Please direct all media inquiries to: Charlotte Gilman at 913-484-1651 (cell) or asgcroc@aol.com.
For further information or tickets, please visit our web site at www.olathetheatre.org.
Reservations can be made by calling the reservation hotline at 913-782-2990 or by writing tickets@olathetheatre.org