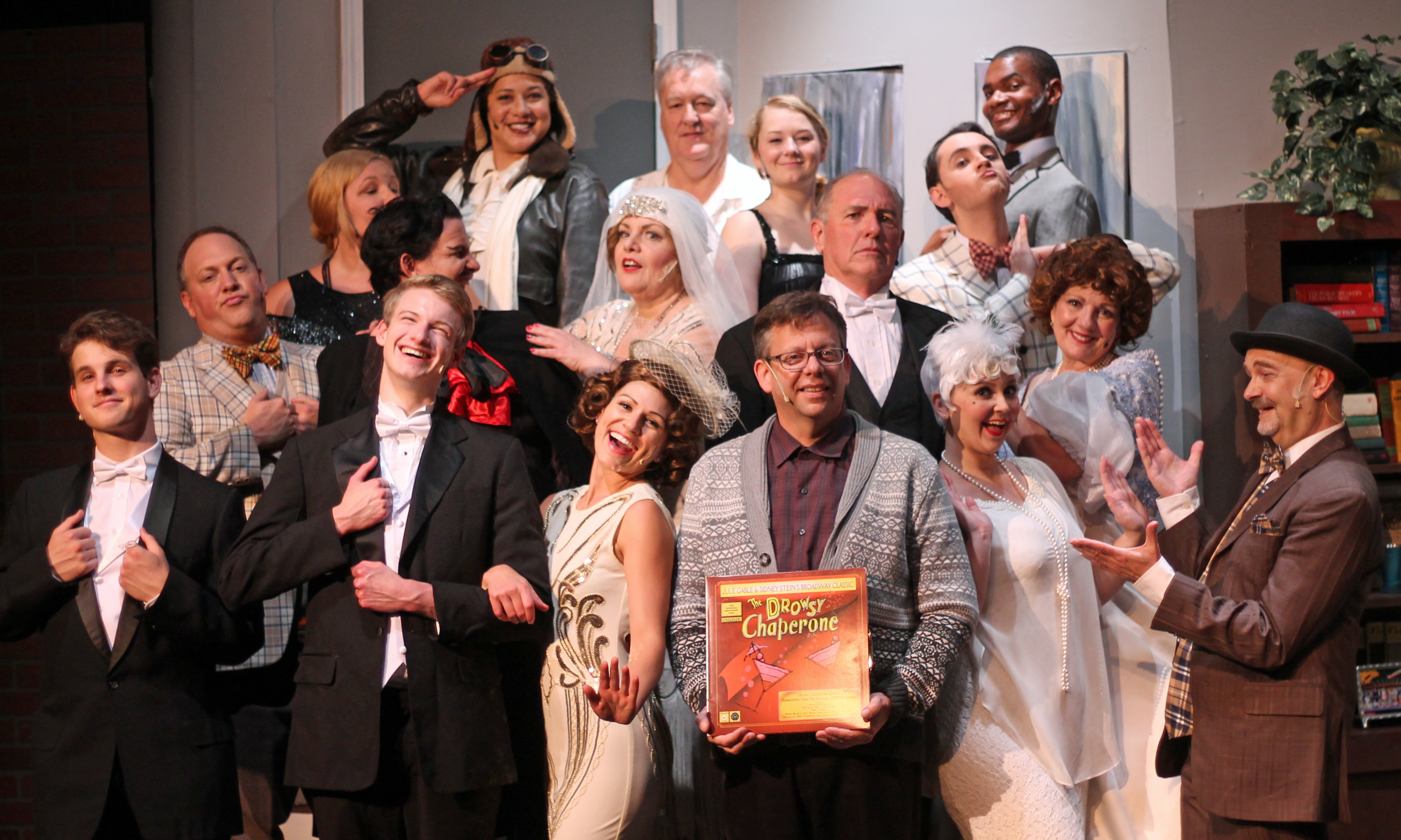 20 Sep

A Drowsy Interview with Director Julie Ewing

The uplifting, and dance-filled musical The Drowsy Chaperone is a hit with OCTA audiences, garnering enthusiastic praise and standing ovations at each performance. Before it closes this Sunday, September 23, learn how this production of the show came together and hear from its talented director Julie Ewing. OCTA board member and PR queen caught up with Julie during rehearsals to ask her a few questions.

Q: What drew you to submit to direct The Drowsy Chaperone?

A: The Drowsy Chaperone has a special place in my heart as it was the last show my father saw my eldest son Riley in before he passed from cancer five years ago. I'll never forget the determination of my father to make it to the final performance he had to get released from the hospital to see his grandson as Man in Chair.

Q: What else have you done at OCTA?

A: My very first acting classes were at OCTA and taught by the fabulous Jan Conner. Jan was a lifelong friend and mentor and is greatly missed. More recently I have directed Little Women the Musical, Violet, and now The Drowsy Chaperone.

Q: How is this show different from other musicals you have directed?

A: I tend to lean toward very story driven shows where there is a strong message or moral. Whether that is addressing racism, sexism, or legalism, I enjoy telling simple stories that have a strong audience take away. If there is an 'ism I am at'em!! Someone I read described

The Drowsy Chaperone as both a pastiche and parody. It pokes fun at the original style and yet it takes the material at face value. It's a musical within a musical narrated by a true lover of the art form. There are many touchstones that Man in Chair has that are directly tied to a musical. I identify with him as I am sure many in the audience will as well.

Q: What is your favorite moment or song?

A: I love everything about the Finale. It wraps things up in a sweet and lovable way. And reminds me of the times I spent cuddled up in our family's den watching all of the old MGM musicals.

Q: Tell us a little about the cast. Any veterans or new talent?

A: Well I am sad to say that OCTA patrons will not be treated to a Peter Leondedis curtain speech because he will be playing Man in Chair. But on the plus side, our curtain speeches should be much quicker! We have veterans of the OCTA stage such as Peter, Peggy Mall, Charles Christesson Jr., Ashley Jones, Laura Irwin and Matt Henrickson (they're married!), Mark McNeal, and Bill Bergman. We also have veterans to Kansas City stages such as Arthur Clifford, Ashton Botts, Kathleen Marx, Don Arnott, Mike Peterson, Dana Wardle, and Catie Wolff. But a highlight will be Mark Doyle and Fisher Stewart as Robert and George. Both are entering their senior years of high school and bring charm, talent, and energy to their first OCTA show. Although new to OCTA, both Fisher and Mark have many credits on their resumes!

Q: Is this a "dance" show? Is the Pope Catholic?

A: Veteran choreographer Ann McCroskey has taken a cast of "mostly movers" and has brought out the "Ginger and Fred" in them! I have been wondering if this show will feature more dancing than any OCTA show to date. At least possibly in the last five years!

Q: We know OCTA is a great, intimate space. How did you stage the numbers and design the fun set?

A: The intimate stage is what I love most about OCTA. The nice thing about the set requirements for The Drowsy Chaperone is that so much of the action takes place in Man in Chair's imagination so we can be somewhat minimalist in our presentations of the musical within the musical but the Man in Chair's apartment needs to be there and able to handle a dancing cast of 16! This is my third show at OCTA and the third time I have worked with designer Ken Schmidt. Ken has an excellent eye and knowledge of both the limitations and advantages of the OCTA stage. I think we are getting known for having interesting surprises in our use of sets and The Drowsy Chaperone will not disappoint.

Q: What do you have coming up?

A: A nice long break! My husband Paul and I are recent empty-nesters. We plan to celebrate that we made it through the last 24 years with our four boys and lived to tell! We also plan to visit all of them and do some traveling, just the two of us. Sounds like heaven to me!

Q: Is there anything else you'd like OCTA patrons to know about you or this fun and funny musical?

A: I hope that as you watch the show you will be taken back to the first musical that you remember listening to … to the joy and comfort it brought you, and that it will make you very happy. This cast will to transport you to a place where the politics of the day can be forgotten for a few hours and spit takes and cannoli are on the menu!
---
The Drowsy Chaperone continues this weekend, September 21, 22, and 23 – Friday and Saturday at 8pm and Sunday at 2pm.  TICKETS and info can be found here.
BONUS MEDIA JUST FOR YOU!
-Check out the PRODUCTION PHOTOS here!
-Read all about the complete CAST AND CREW here!
-See all the photos from the talkback with THE REAL Janet Van De Graaff here!
Official DROWSY VIDEO below!