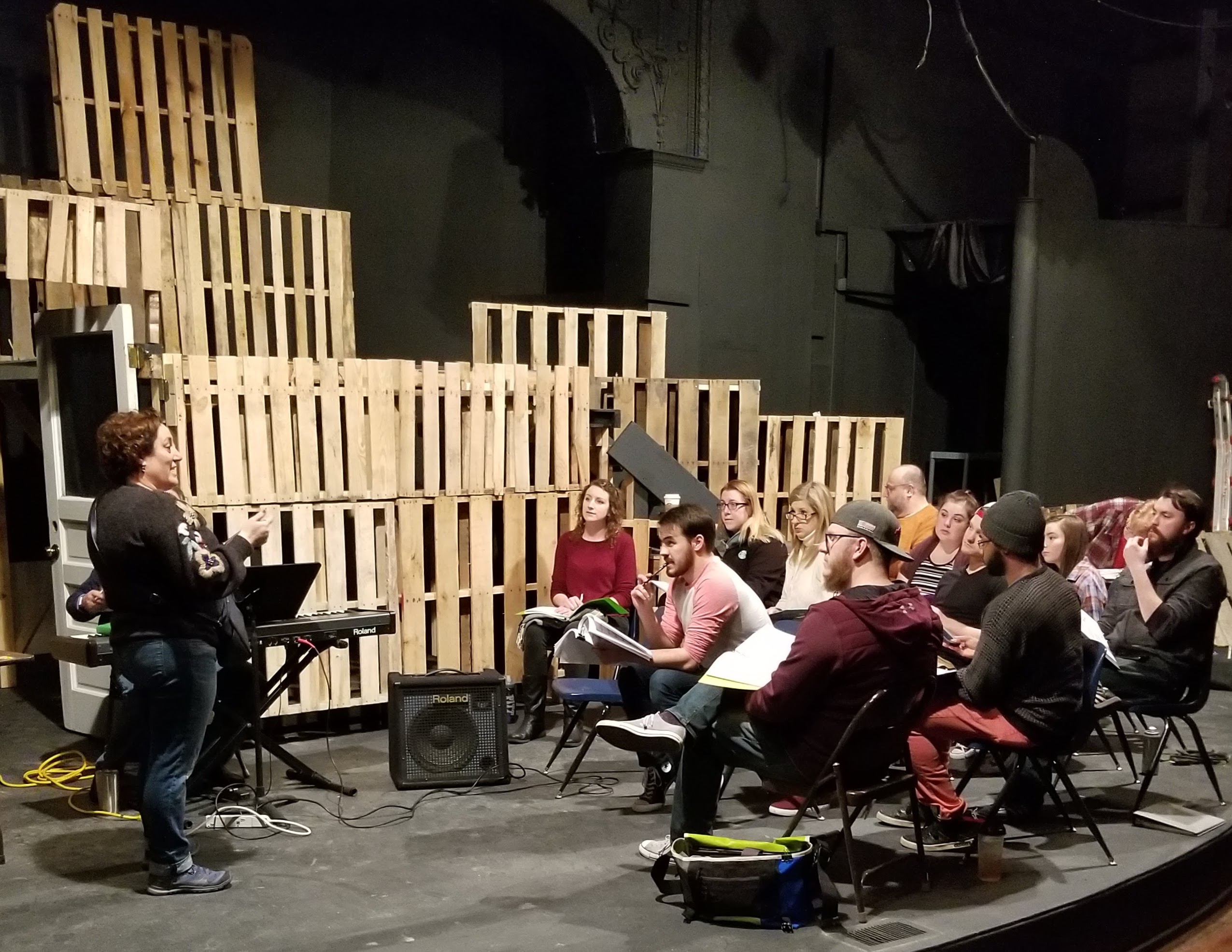 15 Feb

An Interview with VIOLET Director Julie Ewing

Prior to rehearsals, OCTA board member and PR/Media manager Charlotte Gilman caught up with Violet director Julie Ewing and music director Kevin Bogan to learn about why they love the show, what they hope

audiences will take away from it, and more! Below find part one of this two part interview featuring Julie – also included are her director notes from the production program. Visit again next week for the interview with Kevin!

C: Julie, what else have you done at OCTA?

J: I took my first acting class in the 4th grade and it was through the Olathe Parks and Rec, but was taught by Jan Conner at OCTA. I also had the privilege of directing Little Women for OCTA in 2014 – one of my favorite show experiences to date. It's the gift that keeps on giving because a showmance became a marriage and now they have their first child. A boy…not a Little Woman!!

C: What made you want to tell the story of Violet?

J: I saw a production of Violet at Wichita State and couldn't get the message or the music out of my head. It is simple yet complex and I enjoy stories that not only entertain but challenge the audience to reflect and think.

C: It's a big show — meaning it is a show with a strong story and character, set in a historically-charged time — what is one thing you'd like audiences to know about it before they see it?

J: How timely it is. We are dealing with a lot of the same issues in regards to race today as they dealt with in 1964.

C: Tell us a little about your cast.

J: The cast has some newer faces to the OCTA stage and also some people who you will recognize. They are a powerful ensemble of voices. They can individually belt their faces off and bring it down and blend beautifully in the choral numbers.

C: What is coming up next for you?

J: I am directing South Pacific this summer for Theatre in the Park. It runs June 22–30.

C: Is Violet like anything else that OCTA season ticket holders might have seen on our stage?

J: I think Violet is a very unique piece for OCTA. It definitely has one of the larger casts for the stage and yet it is a wonderfully intimate show. There are moments that we hope the audience will feel like they are sitting right next to us on the bus.

C: Anything else you'd like us to know? 

J: I hope that we all, both on and off stage, will see a bit of ourselves in Violet and her story and the people she encounters on the bus whether we like what we see or not. That we will allow that reflection of ourselves to bring positive change in to our lives. Hate and bigotry come in all forms and we can make a difference in stopping it if we can open our hearts up and just ride the bus together.

JULIE'S DIRECTOR NOTES FROM THE PROGRAM: 

"It's about the journeys you take to discover who you are." This was the tagline used by Roundabout Theatre Company from their production of VIOLET. It is a simple yet complex thought, and I love it. When we take a Journey our goals at the onset can become very different by the end. We have control of certain things like who we go with, how we get there, and what we take with us, but oftentimes fate steps in and brings us new people to meet, a change in weather, or unforeseen obstacles that change the direction of the whole trip. These changes are what make our stories rich. They are what we share with family and friends over and over again.

Several months ago, a set of performers accepted roles in this production and began a journey together. Each had hopes and dreams of what the journey would be. We invite you to join us on the bus as we take this journey together. Our hope is that by the end you will walk away with more than you had hoped for when you came to the theatre. That you would see a part of yourself in our story and make a difference with it. That at the end of the journey of Violet you would discover who you are.

Buckle up!
Julie

Violet runs Feb 9-25, Fridays and Saturdays at 8 pm and Sundays at 2 pm. Tickets, info, and more can be found here.

Photo at top of article: Julie talks with cast during an early music rehearsal of the production. 2018. Photo by Carrie Lenahan.