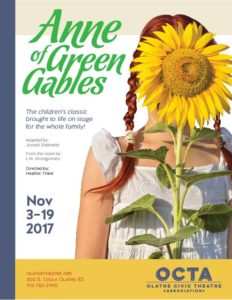 Open Auditions for Anne of Green Gables
Adapted by Joseph Robinette from the novel by L.M. Montgomery
Directed by Heather Tinker
WHEN
Saturday, August 26, 2017 – 9:30 am-1:30 pm *Sign-up required*
Callbacks Sunday, August 27, 2017– 2:00pm
*Sign up for your audition spot here!
You will only be kept for your audition time. Please arrive 15 minutes early.
WHAT TO BRING
Please bring a completed audition form, include any conflicts. A headshot would also be helpful, but not required.
WHAT TO PREPARE
Please be familiar with the audition sides which you can download below (no need to memorize).
WHERE
Olathe Civic Theatre Association
500 E Loula | Olathe, KS
PRODUCTION DATES
November 3, 4, 5, 10, 11, 12, 17, 18, and 19
Fri/Sat at 8 pm | Sun at 2 pm
SIDES
View and download sides
ABOUT THE SHOW
This play is a dramatization of the beloved classic by L.M. Montgomery. Whether you grew up reading or watching Anne Shirley grow from an orphan girl to a sophisticated adult, or are new to Green Gables, you will enjoy this live stage version! A traditional coming of age story, Anne of Green Gables is set in Prince Edward Island, Canada featuring many of Montgomery's unforgettable characters.
CHARACTER BREAKDOWN:
6 to 12 males
12 to 20 females
(Cast size is flexible. Doubling of characters is possible.)
Anne Shirley (13-18): Anne is a spirited red-headed orphan who comes to Green Gables to live with Matthew and Marilla Cuthbert. She tends to talk too much, but loves deeply. She is passionate with a flare for the dramatic. Anne has a positive attitude, but her temper can get her in trouble. Throughout the course of the play, Anne transforms from a girl to a beautiful, intelligent young woman.
Marilla Cuthbert (40-60): An independent, private, no-nonsense unmarried woman who raises Anne with her brother Matthew at Green Gables in Avonlea. She struggles with Anne's temper, dramatic tendencies, and wild imagination but over the years begins to care deeply for her.
Matthew Cuthbert (45-60): Marilla's brother. He is quiet and a man of few words. He is irresistibly drawn to Anne from the moment he meets her. He often helps Anne through some of her toughest moments and helps Marilla see the good in her.
Gilbert Blythe (15-20): Gilbert quickly becomes Anne's adversary when he calls her "carrots". Their rivalry extends to their schoolwork as well, but the two have a mutual admiration for each other which blossoms into love.
Diana Barry (13-18): Diana is Anne's bosom friend. She is sweet and adores Anne's vitality. She comes from a wealthy home. She has dark hair that Anne envies.
Rachel Lynde (40-55): Long time neighbor of Matthew and Marilla. Rachel wants to know all the business of everyone in Avonlea. She loves to gossip, and offers unsolicited advice freely.
Mrs. Barry (30-45): Diana's mother. She is wealthy and difficult to please. She is unsure of Anne, but eventually grows to love her just as the others do.
Minnie May Barry (7-11): Diana's younger sister who gets very ill and Anne comes to her rescue.
Josie Pye (13-18): Anne's classmate and often times, rival. She is typically snobbish and comes from wealthy family.
Jane Andrews (13-18): One of Anne's classmates and friends. She is often with Anne for parties and adventures.
Ruby Gillis (13-18): One of Anne's classmates and friends. She is often with Anne for parties and adventures.
Moody MacPherson (13-18): One of the boys in Anne's class at the Avonlea school. He plans to be a minister.
Roles that may be doubled. Not necessarily in this exact arrangement. May be separated into individual characters:
Stationmaster, Mr. Phillips, Jerry Buote, Reverend Allen (15-30)
Charlie Sloane, Mr. Saddler (15-25)
Reverend Bentley, Jimmy Glover, President of Queen's Academy (15-30)
Mrs. Blewett, Tillie Boulter, Miss Susan Stacy, Carrie Sloane (15-30)
Prissy Andrews, Aunt Josephine Barry (15-35)
Miss Rogerson, Bessie Wright, Mary Jo, Mrs. Allan (15-30)
QUESTIONS?
If you have questions, please contact OCTA Production Manager Peter Leondedis at pgleondedis@yahoo.com.
PLEASE SHARE!
If you know someone who'd be great in one of these roles, please share this information.
OCTA celebrates our cultural and intellectual richness and is committed to promoting diversity in all aspects of our organization. Non-traditional and equal-opportunity casting is encouraged.
Link to the Facebook Audition Event!