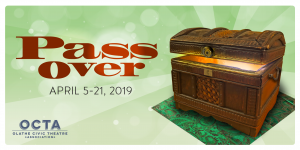 PASS OVER
By Michelle Tyrene Johnson
Directed by Teresa Leggard
AUDITION DATES/TIMES*:
Saturday, December 8, 2018, 1:00-5:00pm
Sunday, December 9, 2018, 1:00 – 5:00pm
No audition slot sign-up is required.
CALLBACKS (if needed):
Saturday, December 15, 2018, 1:00 – 5:00pm
If necessary, callbacks will consist of readings from the script.
PRODUCTION DATES:
April 5-21, 2019
Fri/Sat at 8:00pm | Sun at 2:00 pm
SYNOPSIS:
The Washingtons, an African-American family, have lived next door to the Levy family in a Philadelphia neighborhood for a few generations. In the wake of the death of the Washington family matriarch, secrets, discoveries and conflicts collide as a brother and sister come together to bury their beloved grandmother. The Washingtons, finding old stock in the Levy family business, create family, cultural and personal tension.
CHARACTER BREAKDOWN:
3 women, 2 men
Angelique Washington: Black Female, 30s-40s
Educated and a free spirit.
Paul Washington: Black Male, 30s-40s
Corporate-type. Angelique's older brother.
Gloria Washington: White Female, 30s-40s
Sweet and reserved. Paul's wife.
Jake Levy: White Jewish Male, 30s-40s
Childhood acquaintance of Angelique and Paul and next-door neighbor to their grandmother.
Dianna Levy: White Female, 30-40's.
Corporate and conventional. Jake's wife. Can be older than Jake.
EXPECTATION AND PREPARATION:
Prepare:
Auditions will consist of one prepared monologue and cold readings from the script. Sides will be available the day of auditions.
Bring:
Please bring a current resume and headshot. Audition and conflict form will be available on audition days at OCTA – be prepared to list all known conflicts from Feb 23 – March 30.
Scheduling Notes:
No conflicts during tech week March 30 – April 4.
Rehearsal:
Rehearsals begin Saturday, March 2nd: Saturdays and Sundays, 9am-2pm
** No rehearsal on 3/17 (St. Patrick's Day)**
Additional Notes (Set build/strike/costumes):
Cast members are required to assist with strike following the final performance on April 21, as well as a cast build day, TBD. Cast members may also be asked to assist with costume pieces.
QUESTIONS:
If you have any questions you cannot answer through this audition notice or the Facebook event, please email the director Teresa Leggard at tmleggard@gmail.com
*OCTA celebrates our cultural and intellectual richness and is committed to promoting diversity in all aspects of our organization. Non-traditional and equal-opportunity casting is encouraged.