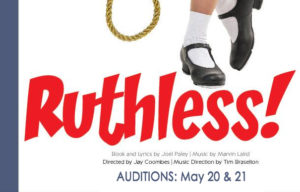 Open Auditions for
RUTHLESS! The Musical
"The stage mother of all musicals"
Music by Marvin Laird | Book and Lyrics by Joel Paley
Directed and Choreographed by Jay Coombes
Musical Direction By Tim Braselton
WHEN
Saturday, May 20 – 1:00 to 4:00 pm
Sunday, May 21 – 1:00 to 4:00 pm
Callbacks: Sunday, May 21 – 7:00 to 10:00 p.m. by invitation only. Plan on the entire callback time if called back.
WHERE
Olathe Civic Theatre Association
500 E Loula | Olathe, KS
PRODUCTION DATES
September 15, 16, 17, 22, 23, 24, 29, 30 & Oct 1, 2017
Fri/Sat at 8 pm | Sun at 2 pm
ABOUT THE SHOW
Eight-year-old Tina Denmark knows she was born to play Pippi Longstocking, and she'll do anything to win the part in her school musical. Her mother, fellow students, and the rest of the world had better watch out because nothing will stop her quest for stardom!! Cunningly spoofing classic musicals and campy films from Gypsy to The Bad Seed, this aggressively outrageous musical garnered rave reviews during its long Off-Broadway run.
"A spoof that has enough absurd plot twists and multiple identities to fill several old movies… The fun comes from the sheer brazenness!" – The New York Times
PRODUCTION TEAM:
Director and Choreographer: Jay Coombes
Music Director: Tim Braselton
Stage Manager: Betsy Sexton
Lighting Designer: Chuck Cline
Sound: J. Patrick Inlow
CHARACTER BREAKDOWN:
Judy/Ginger
35 to 50 Mezzo Belter with a pleasing head voice as well.
Sylvia St Croix
40 to 60 Baritone played by a man, but not to be played like drag.
Tina
8 to 12 precocious diva. Must belt an e flat. Mix preferred for vocal safety. Tap dancer.
Louise
8 to 12 precocious diva. Belter.
Mrs. Thorn/Emily
Belter who is over life as it is. / Perky butch reporter
Eve
20ish to 30ish Ginger wannabe. Belter Femme Fatal. Will appear in tasteful under garments.
Lita Encore
40ish to 60ish Ethel Merman type
WHAT TO PREPARE:
Please prepare 16 to 32 bars of an up-tempo Broadway piece. Preferably old school. An accompanist will be provided. No a cappella or tapes for auditions please. You may perform a monologue of your choice or cold read from the script, whichever you think is your strong suit.
WHAT TO BRING:
Current resume and a complete list of conflicts from July 30-Oct 1, 2017. Dedication and commitment to OCTA, the director, and your fellow actors is of utmost importance, so the fewer conflicts you have, the better your chances of getting a role. Regarding conflicts, please remember vacations and your holiday schedules before auditioning, as these may be a factor in the casting process. Head shots are welcome, but not required.
REHEARSALS:
Rehearsals will begin July 30, and will typically be Sunday through Thursday. Details TBD after auditions.
QUESTIONS?
Please email director Jay Coombes at jaycoombes2@yahoo.com for additional information.
PLEASE SHARE!
If you know someone who'd be great in one of these roles, please share this information.
OCTA celebrates our cultural and intellectual richness and is committed to promoting diversity in all aspects of our organization. Non-traditional and equal-opportunity casting is encouraged.
Link to the Facebook Audition Event!