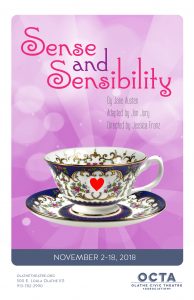 SENSE AND SENSIBILITY
Jane Austen's classic novel adapted by Jon Jory
Directed by Jessica Franz

AUDITION DATES/TIMES*:
Saturday, August 4, 2018, 2:00 – 5:00pm
Sunday, August 5, 2018, 2:00 – 5:00pm
No audition slot sign-up is required.

If you cannot attend the Aug 4 or 5 auditions please contact director Jessica Franz at Sabrynef@yahoo.com and arrangements can be made. (If you cannot attend any audition dates, video submissions of the cold readings are welcome. Please submit to Sabrynef@yahoo.com.)

Callbacks (if needed):
Sunday, August 12, 2018, 2:00 – 5:00pm
If necessary, callbacks will consist of readings from the script and a simple movement portion.

PRODUCTION DATES:
November 2 – 18, 2018
Fri/Sat at 8:00pm | Sun at 2:00 pm

SYNOPSIS:
In this witty comedy of manners, two sisters who are alike only in their pursuit of happiness find themselves financially destitute and socially vulnerable after their father's sudden death. Will Elinor's common sense or Marianne's impulsive passion offer up the key to living "happily ever after"? Expect the unexpected as this spirited tale of flirtation and folly bounds onto the OCTA stage in this boisterous adaptation of one of Austen's beloved stories.

PRODUCTION TEAM:
Director: Jessica Franz
SM: DK Evenson
Set Designer: Bill Wright
Light Designer: Chuck Cline
Props Designer: Rita Marks
Costume Designer: Sarah Jeter
Sound Designer: Erin Brown
Choreographer: Valerie Martin
Dialect Coach: Tamara Kingston

CHARACTER BREAKDOWN:
6-8 women, 7-9 men
Elinor Dashwood: Female, 20-30's.
The oldest of the Dashwood sisters. Rational, reserved & prudent, she is forced to be the practical one in the family.

Marianne Dashwood: Female, 20's.
The middle sister, governed by impulse and emotion, wearing her heart on her sleeve.

Margaret Dashwood: Female, look in teens.
(Non-Speaking Role) The youngest Dashwood daughter. Will also be part of the ensemble.

Mrs. Henry Dashwood: Female, 40-60's.
Inclined to sentiment and indulges in her emotion, she is the recently widowed mother to the Dashwood sisters, and stepmother to John Dashwood.

Mr John Dashwood: Male, 30-40's.
The son of Henry Dashwood by his first wife, and half brother to Elinor and Marianne, John is motivated by money and easily influenced by his conniving and petty wife. (Will double as ensemble and other roles as needed.)

Mrs John Dashwood (aka – Fanny): Female, 30-40's.
Sister to Edward and Robert Ferrars. Born into money, believes wealth is what creates good breeding. (Will double as ensemble and other roles as needed.)

Edward Ferrars: Male, 20-30's.
Kind and mild mannered, lets himself be walked upon by his mother and sister. Brother to Robert Ferrars and Fanny Dashwood.

Colonel Brandon: Male, 30-50's.
Dignified and well-to-do. His exterior is austere, but his heart is that of a poet. A friend of Sir John Middleton, he longs for Marianne Dashwood.

Willoughby: Male, 20-30's.
Dashing and mysterious, Willoughby easily woos Marianne Dashwood with his charm and wit.

Sir John Middleton: Male, 40-60's.
A jolly, kind, and generous dog-lover. Upon hearing the news of his cousin's predicament, John invites Mrs. Henry Dashwood and her daughters to live in his cottage in Devonshire. (Will double as ensemble and other roles as needed.)

Lady Middleton: Female, 30-40's.
Wife to Sir John Middleton and the daughter of Mrs. Jennings. Very concerned about her children and propriety. (Will double as ensemble and other roles as needed.)

Lucy Steele: Female, 20-30's.
While secretly engaged to Edward Ferrars, she befriends Elinor. Outwardly sweet, will jump at any opportunity. (Will double as ensemble and other roles as needed.)

Mrs. Jennings: Female, 40-60's.
Mother-in-law to Sir John Middleton, her impulse is that of a matchmaker, longing to arrange marriages for the Dashwood sisters. Similar in joy and loudness to Sir John Middleton. (Will double as ensemble and other roles as needed.)

Robert Ferrars: Male, 20-30's.
Younger brother to Edward, he is focused on money and class. (Will double as ensemble and other roles as needed.)

Mrs. Ferrars: Female, 50-70's.
Mother to Robert, Edward and Fanny, Mrs. Ferrars is deeply concerned that her offspring marry well. (Will double as ensemble and other roles as needed.)

The Ensemble: Male & Female, all ages.
The ensemble will be the watchers, the judgers, the society members who are constantly pushing & pulling our characters through the play (literally & figuratively). This includes most of the cast.

EXPECTATION AND PREPARATION:

Prepare:
Auditions will consist of cold readings from the script. Prior to auditions, please read and familiarize yourself with the play and the role/s that interest you. The script is available to read for free at https://www.playscripts.com/play/2044

Bring:
Please bring a current resume and headshot. Audition and conflict form will be available on audition days at OCTA – be prepared to list all known conflicts from Sept 24 – Oct 27.

Scheduling notes:
No conflicts during tech week Oct 28 – Nov 1.

Rehearsal:
Rehearsals begin Monday, Sept 24 and are Sunday-Thursday evenings, from 7:00 – 10:00pm.

Additional Notes (Set build/strike/costumes):
Cast members are required to assist with strike following the final performance on Nov 18, as well as a cast build day, TBD. Cast members may also be asked to assist with costume pieces.

QUESTIONS:
If you have any questions you cannot answer through this audition notice or the Facebook audition event, please email director Jessica Franz at Sabrynef@yahoo.com.
*OCTA celebrates our cultural and intellectual richness and is committed to promoting diversity in all aspects of our organization. Non-traditional and equal-opportunity casting is encouraged.