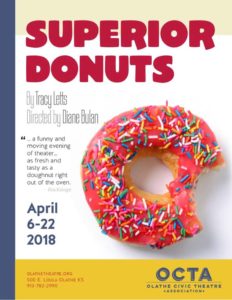 Open Auditions for Superior Donuts
By Tracy Letts | Directed by Diane Bulan
WHEN
Nov 11 – Saturday 1:00 – 4:00 pm
Nov 12 – Sunday 6:00 – 9:00 pm
Callbacks: Nov 13 – Monday 7:00 – 10:00 pm
WHAT TO BRING
Please bring a current resume and headshot.
PREPARATION/EXPECTATION
Auditions will consist of cold readings from the script.
Prior to auditions, please read and familiarize yourself with the play and the role/s that interest you.
REHEARSALS/OTHER
Rehearsals will begin Monday, February 26 and will run Sunday-Thursday evenings.
WHERE
Olathe Civic Theatre Association
500 E Loula | Olathe, KS
PRODUCTION DATES
April 6, 7, 8, 13, 14, 15, 20, 21, and 22
Fri/Sat at 8 pm | Sun at 2 pm
Note that an industry night may be added. If so, it will be Monday April 9 or 16. If cast, please hold these dates as well.
Cast members are required to assist with strike following the final performance on April 22.
ABOUT THE SHOW
From the Pulitzer Prize-winning author of AUGUST: OSAGE COUNTY comes this moving comedy-drama set in an Uptown Chicago donut shop. Facing age 60 and all alone, proprietor Arthur has his dreary world turned upside down by the arrival of Franco, an ambitious employee in his early 20s.
Seeking an ethnically diverse cast.
CHARACTERS
Arthur Przybyszewski (pronounced (p)Shub-er-SHEF-ski) – Polish-American male, 59
Franco Wicks – African-American male, 21
Max Tarasov – Russian male, 49
Kiril Ivakin – Russian male, 35
Lady Boyle – female, 72
Officer Randy Osteen – female, 49
Officer James Bailey – African-American male, 43
Luther Flynn – Irish/Italian-American male, 45
Kevin Magee – male, 28
OCTA celebrates our cultural and intellectual richness and is committed to promoting diversity in all aspects of our organization. Non-traditional and equal-opportunity casting is encouraged.
QUESTIONS?
If you have questions, please contact director Diane Bulan at dianebulan@gmail.com or via Facebook messenger.
Link to the Facebook Audition Event!