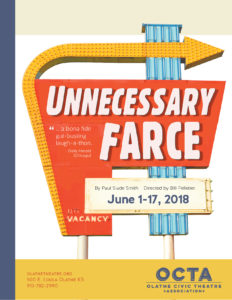 UNNECESSARY FARCE
By Paul Slade Smith | Directed by Bill Pelletier
AUDITIONS:
Saturday, April 7, 2018, 1:00pm – 4:00pm
Sunday, April 8, 2018, 6:00pm – 9:00pm
Callbacks (only if needed):
Monday, April 9, 2018 7:00pm – 10:00pm
PRODUCTION DATES:
June 1–17, 2018
Fri/Sat at 8:00pm | Sun at 2:00 pm
SYNOPSIS:
"Two cops. Three crooks. Eight doors. Go!"
UNNECESSARY FARCE is an award-winning stage comedy that combines all the elements of classic farce with a contemporary American plot.
In an economy motel room, an embezzling mayor is supposed to meet with his female accountant. In the room next door, two undercover cops are supposed to catch the meeting on videotape. But there's some confusion as to who's in which room, who's watching the video, who's taken the money, who's hired a hit man, and why the accountant keeps taking off her clothes.
EXPECTATION AND PREPARATION:
Prepare: Auditions will consist of cold readings from the script. Prior to auditions, please read and familiarize yourself with the play and the role/s that interest you.
Bring: Please bring a current resume and headshot. Also bring all known conflicts from April 23 through June 17.
Rehearsal: Rehearsals will begin Monday, April 23 and run Sunday-Thursday evenings from 7:00 pm to approximately 10:00 pm.
Additional Notes: Cast members are required to assist with strike following the final performance on June 17. Cast members may also be asked to assist with costume pieces.
CHARACTERS:
Note: Age ranges listed for characters are suggested ages only. These may be flexible depending on the actors auditioning.
4 males and 3 females
Eric Sheridan: Male, 30s. A bookish, even-keeled police officer who is thrown into some difficult situations–while not wearing any pants.
Billie Dwyer: Female, 20s-30s. A police officer. Eric's partner. Although she seems to lack every skill needed for police work, she is enthusiastic and eager to succeed.
Karen Brown: Female, 30s. An accountant who usually has a very professional demeanor, but seems unable to keep herself in control today.
Mayor Meekly: Male, 50s to 70s. A sweet, gentle fellow, who seems very Innocent (with a capital "I")
Agent Frank: Male, 30s to 50s. Town Hall head of Security. Although he can seem confident and even gruff, in moments of crisis he is easily reduced to a very frightened man
Todd: Male, 30s to 50s. Speaks with a pronounced Scottish accent. A professional hit man who's accent gets thicker the angrier he gets, until he's completely indecipherable.
Mary Meekly: Female, 50s to 70s. the Mayor's wife. Small statured, she seems very sweet natured, and a good match for her husband the mayor, however, she is not all that she seems.
QUESTIONS:
Please direct questions to director Bill Pelletier at actorbill@hotmail.com.
*OCTA celebrates our cultural and intellectual richness and is committed to promoting diversity in all aspects of our organization. Non-traditional and equal-opportunity casting is encouraged.