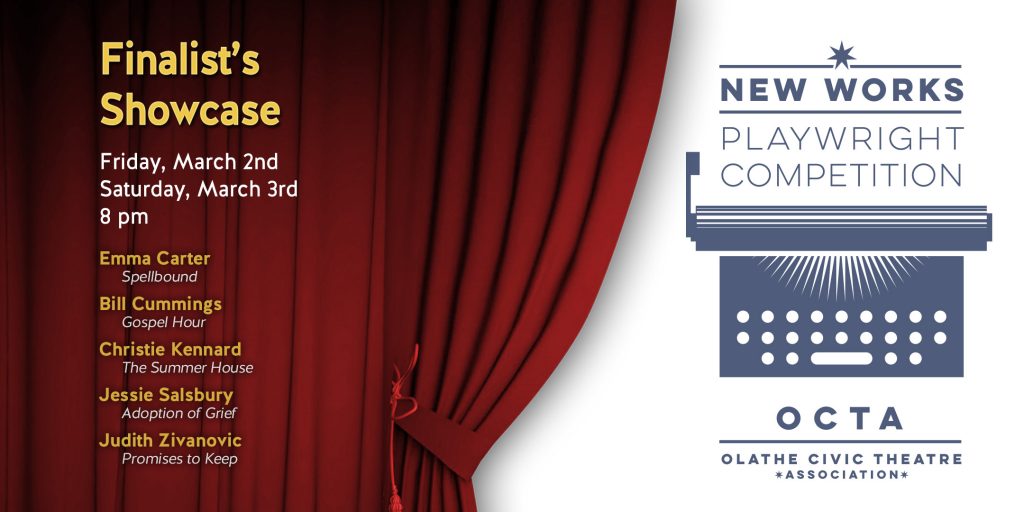 New Works Playwright Competition (OCTA Special Event)
March 2 and 3, 2018 | 8 pm
Which of the five finalists of OCTA's New Works Playwright Competition will get a full length workshop for their script? You'll see short teasers of each script, then vote for the winner. Make your voice count and support the local playwriting community at the same time!
WHAT:
The New Works Playwright Competition is a unique opportunity for local playwrights to get their names out in the community and have a chance to workshop their production on the OCTA stage.
WHY:
OCTA continues to seek ways to provide aspiring artists opportunities to grow. We feel our unique space and collaborative spirit can provide a safe environment for aspiring playwrights to be heard.
WHO:
This year's five finalists are:
SPELLBOUND by Emma Carter
GOSPEL HOUR by Bill Cummings
THE SUMMER HOUSE by Christie Kennard
ADOPTION OF GRIEF by Jessie Salsbury
PROMISES TO KEEP by Judith Zivanovic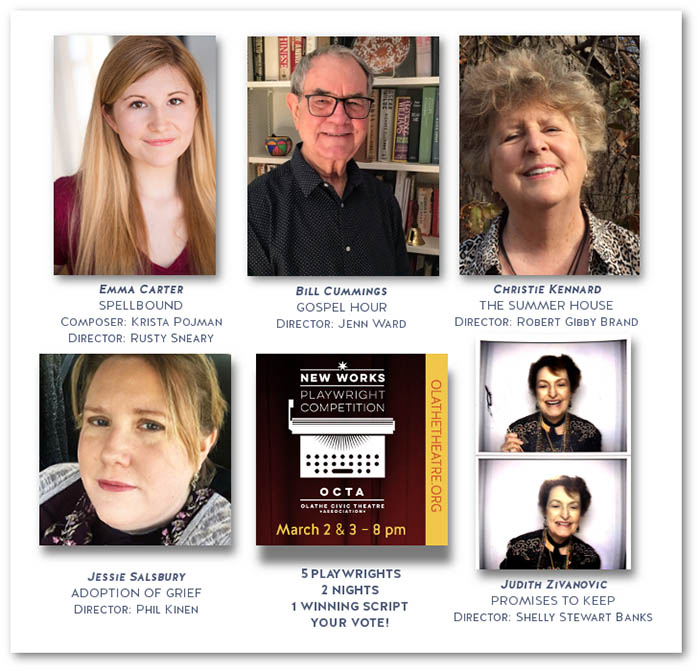 PLAYWRIGHTS / DIRECTORS / COMPOSER / CASTS
* Bios/headshots of entire company here!*
SPELLBOUND
Written by: Emma Carter
Music Composed by: Krista Pojman
Director: Rusty Sneary
Accompanist – Krista Pojman
Princess Emalia – Jamie DeAnn Turner
Princess Kai – Kelsea McLean
Sir Philip the Philanderer – Mike Ott
Princess Ameerah – Rebecca Munoz
Brown Eyes – Bob Linebarger
GOSPEL HOUR
Written by: Bill Cummings
Director: Jenn Ward
Maggie – Elaine Christensen
Serena – Jauwan Stinson
Stage Directions – Jenn Ward
THE SUMMER HOUSE
Written by: Christie Kennard
Director: Robert Gibby Brand
Anna James – Stefanie Stevens
Zee James – Bonnie Griffin
Ellen Cantrell – Kelly Main
Kate Cantrell Eastman – Casey Jane
Jesse Edward James – Marek Burns
Stage Direction Reader – Robert Gibby Brand
ADOPTION OF GRIEF
Written by: Jessie Salsbury
Director: Phil Kinen
Desiree Nichols – Tobi Omodehinde
Amanda Lipsig – Denise Saylor
Scene Directions – Davida Eubank
PROMISES TO KEEP
Written by: Judith Zivanovic
Director: Shelly Stewart Banks
Katie – Meghann Deveroux
George – Derrick Freeman
Stage Directions – Peter Leondedis
MORE INFO:
Find out more in the OCTA press release, and see headshots and read about all 20+ playwrights, directors, composer, and actors involved. There's also an informative video with an interview with last year's winner, Michelle Tyrene Johnson.

PLAN YOUR VISIT TO OCTA
Tickets may be purchased with credit card, check, or cash. Free parking is available in the OCTA lot and on the street. Concessions are available for cash or credit donation and may be taken into the theater.