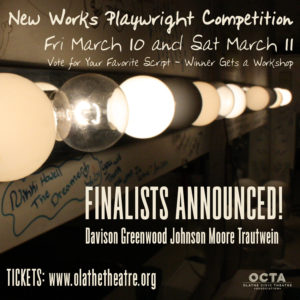 WHAT:
New Works Playwright Competition (OCTA Special Event)
March 10 and 11 – 8 pm
Buy tickets now! Tickets: $10 (*$5 for OCTA Season Ticket Holders)
Which of the five finalists of OCTA's New Works Playwright Competition will get a full length workshop for their script? You'll see short teasers of each script, then vote for the winner. Make your voice count and support the local playwriting community at the same time!
WHO:
Olathe Civic Theatre Association is pleased to announce the five finalists whose work will be showcased during the theatre's inaugural New Works Playwright Competition March 10 and 11.
Entries received two rounds of review by a play reading committee and were narrowed down to the following five finalists:
"Green Book Wine Club Train Trip" by Michelle Tyrene Johnson, directed by Teresa Leggard
"The Last Danny Boy" by Jim Moore, directed by Jenn Ward
"Dissolution" by Lisa Greenwood, directed by Deb Buckner
"Mr. Grievers Takes a Lunch Break" by Amanda Davison, directed by Jo Bledsoe Collins
"Revelations" by Derek Trautwein, directed by Trevor Belt
The winner will be announced following the second night of the competition.
WHAT:
The New Works Playwright Competition is a unique opportunity for local playwrights to get their name out in the community and have a chance to workshop their production on the OCTA stage. We had a call for scripts this fall and the entries were narrowed down to these five finalists.
WHY:
OCTA continues to seek ways to provide aspiring artists opportunities to grow. We feel our unique space and collaborative spirit can provide a safe environment for aspiring playwrights to be heard. But why a competition? Andrew Joseph Brown, OCTA board member, actor, playwright, and creator of the competition, describes his desire to create a new opportunity for local playwrights: "OCTA continues to support local arts and artists, but now we're creating a new platform that provides a safe environment for local playwrights to be heard. This program is unique in that the winning playwright receives a workshop/venue where he or she can implement new thoughts and revisions after seeing how the teaser is received. Their concept then has a chance for a life after the competition. We were thrilled with the number and quality of the entries we received."
TICKETS are available online now.
*Season Ticket Holders get a special $5 ticket for this event, but must purchase tickets at the box office. Call ahead or write to let us know you're coming at tickets@olathetheatre.org or 913-782-2990.
PLAN YOUR VISIT TO OCTA
Tickets may be purchased with credit card, check, or cash. Free parking is available in the OCTA lot and on the street. Concessions are available for cash or credit donation and may be taken into the theater.