01 Jul

New Works Playwright Competition Winner Workshop at OCTA

FOR IMMEDIATE RELEASE

Media Contact: Charlotte Gilman

913-484-1651 | asgcroc@aol.com

Tickets: www.olathetheatre.org  | Reservations: 913-782-2990 or tickets@olathetheatre.org

New Works Playwright Competition Winner Workshop at OCTA

Michelle Tyrene Johnson Delivers New Full-Length Script

Olathe, KS (July 1, 2017):  Local playwright Michelle Tyrene Johnson, winner of Olathe Civic Theatre Association's inaugural New Works Playwright Competition, returns for the Winner Workshop of the competition's wildly popular script, The Green Book Wine Club Train Trip. Last fall, local playwrights were invited to submit teasers of never-before-seen scripts, with the top five performed as script-in-hand readings during the March semi-finals. Over the course of two nights, audiences voted for the winning script, which will now receive two full-length staged readings July 7 and 8.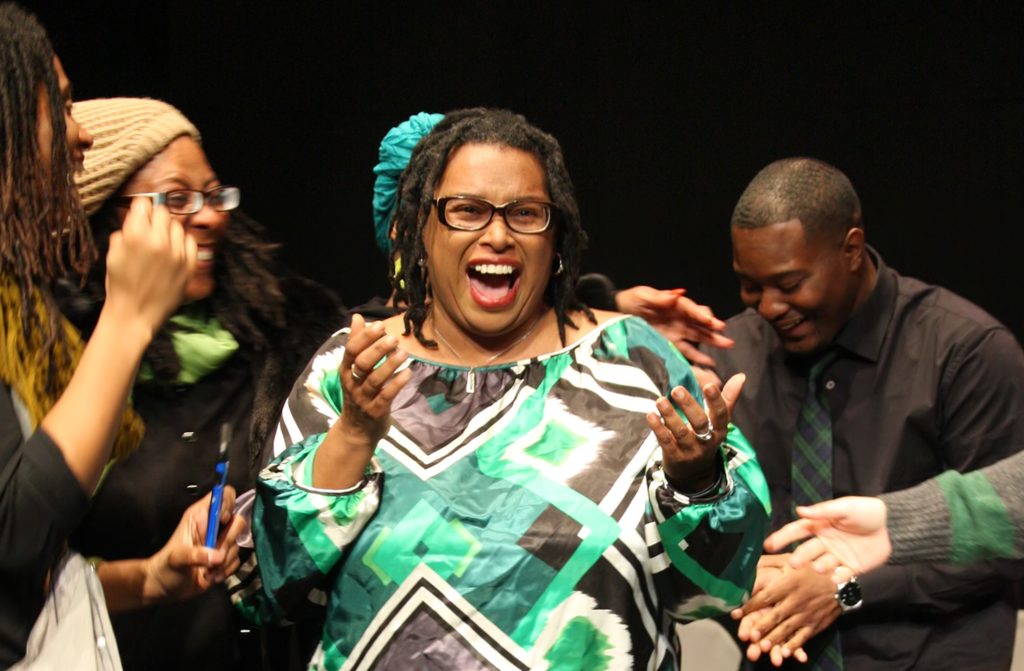 The play focuses on five contemporary black women who take a weekend train trip as part of the book and wine club they are in together.  Marie, a librarian, in addition to arranging the trip, is also conducting family research which involves looking through The Negro Motorist Green Book, the guidebook used by African-Americans in pre-segregation America to know the safe and welcoming places to stay and patronize while traveling. Marie accidentally time travels to the 1940s, where she stays in a boarding house mentioned in the book. She discovers family secrets and gets an up-close view of how the present and the past compare, contrast, and converge.
Johnson has worked on this story for a year and a half and says that "winning the competition is an invigorating acknowledgement of local support of her work." Her plays have been produced on stages around the Kansas City area, in several New York City festivals, and in the states of California, Texas, Pennsylvania, and Connecticut. Johnson says her goal as a playwright is "to keep writing plays that travel well to other communities – to make people think, laugh, cry, and see citizens of the world through the new eyes an engaging story inspires."
She brings to the workshop the following remarkable local artists, some of which are UMKC theatre alumni: director Teresa Leggard (also a poet, playwright, and she holds an MFA in Creative Writing from the University of Missouri-Kansas City (UMKC)), and cast members Marica Davis (Marie), Rasheedat "Ras" Badejo (Saige/Lucy), Lanette King (Alicia/Cotton Blue), Amber McKinnon (Toni/Henrietta), Aishah Ogbeh (Lynn/Bertha), and Earl McWilliams (Stage Directions/Male Voices). Alexa Cioffi will run light and sound for the two workshop readings. Company bios and headshots can be seen here.
Director Leggard feels audiences will love "the larger-than-life characters and the time travel element." When asked what drew her personally to the play, she responded "the variety of black female voices … we've got a diversity of black womanhood, across age, class, orientation, generation – literally across time."
Johnson and Leggard first worked together on a project during their time at UMKC and continue to collaborate on projects in Kansas City. Regarding this script, they're "pretty tickled at how The Negro Motorist Green Book seems to be emerging in the zeitgeist right now. From Huffington Post to CBS News to The New York Times. It's nice being ahead of that curve."
This will be the second full-length reading for The Green Book Wine Club Train Trip – the first was held in New York City at the National Black Theatre this March just after OCTA's semi-finals. On seeing it interpreted by two different casts within the same month, Johnson said: "It was an incredibly educational experience to see how the same play can inspire different interpretations of my text."
Spearheading the competition is local actor and playwright, Andrew Joseph Brown. Brown explains: "We're thrilled to see the final stage of this competition. It's something we've been working on for over a year now and we hope audiences will be just as thrilled to see this brand new story on the OCTA stage."
The two staged readings are Friday, July 7 and Saturday, July 8 at 8:00 pm. Suitable for ages 12 and above with some strong language. Regular tickets are $10. Tickets for OCTA subscribers are $5.  Tickets and more information are available at: http://olathetheatre.org/new-works-playwright-competition-winner-workshop.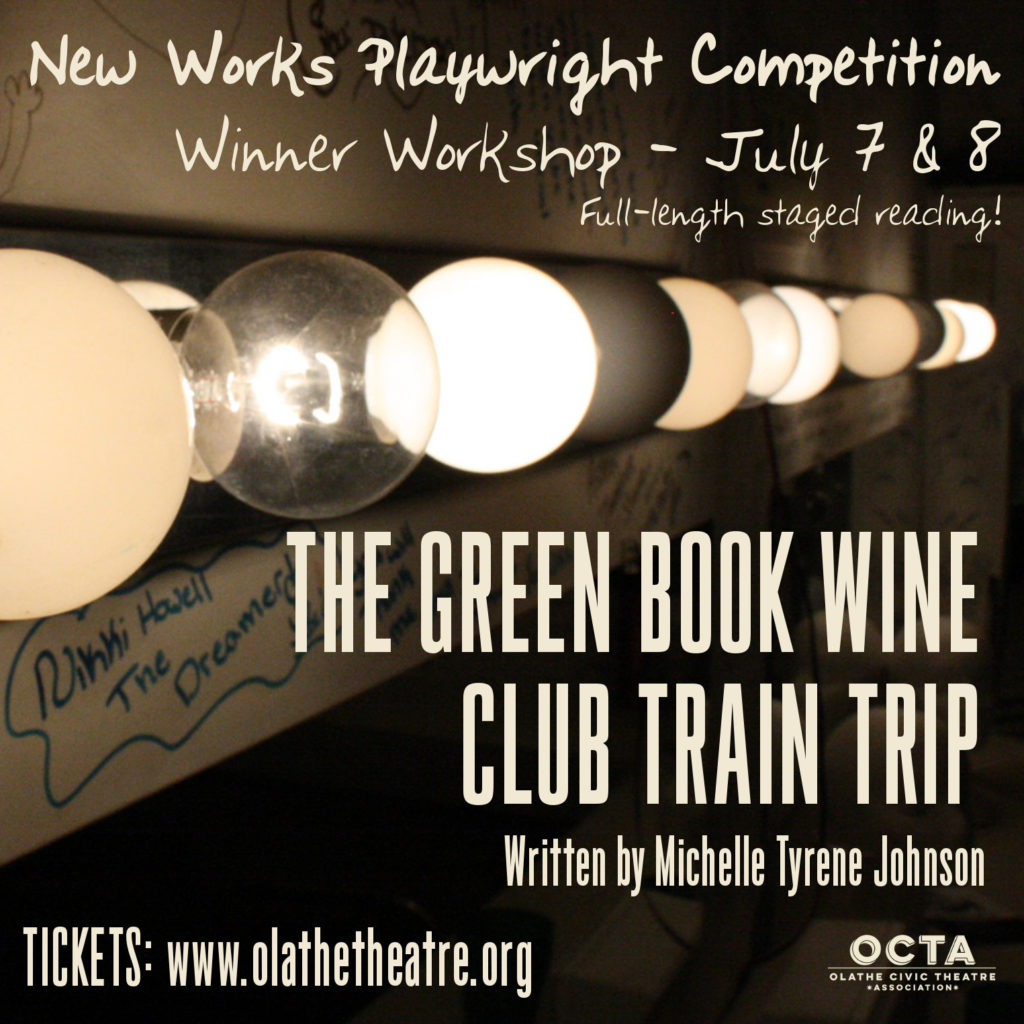 About Olathe Civic Theatre Association
Olathe Civic Theatre Association is a 501c3 organization producing theatre in Olathe since 1974. Performing in the Buddy Rogers Family Playhouse, OCTA produces five high-quality, engaging, and thought-provoking theatre productions a year. Through the generosity of volunteers, season ticket holders, donors, and the City of Olathe, OCTA has grown into one of the most progressive community theatres in the Kansas City metropolitan area.
Social and Digital Media
Receive daily updates by 'liking' OCTA's Facebook page at www.facebook.com/olathecivictheatre and follow OCTA on Twitter and Instagram at @OCTATheatre.
OCTA's Upcoming 2017-2018 Season-at-a-Glance
The Green Book Wine Club Train Trip – New Works Playwright Competition Winner Workshop
July 7–8, 2017 | By Michelle Tyrene Johnson
Ruthless!  September 15–October 1, 2017
Book and Lyrics by Joel Paley | Music by Marvin Laird
Directed by Jay Coombes | Music Direction by Tim Braselton
Anne of Green Gables November 3–19, 2017
Adapted by Joseph Robinette from the novel by L.M. Montgomery
Directed by Heather Tinker
Violet February 9–25, 2018
Book and Lyrics by Brian Crawley | Music by Jeanine Tesori
Directed by Julie Ewing | Music Direction by Kevin Bogan
New Works Playwright Competition 2018
Details TBA
Superior Donuts April 6–22, 2018
By Tracy Letts
Unnecessary Farce June 1–17, 2018
By Paul Slade Smith | Directed by Bill Pelletier
###
Please direct all media inquiries to:  Charlotte Gilman at 913-484-1651 (cell) or asgcroc@aol.com.
For further information or tickets, please visit our Web site at www.olathetheatre.org.
Reservations can be made by calling the reservation hotline at 913-782-2990 or by writing tickets@olathetheatre.org.