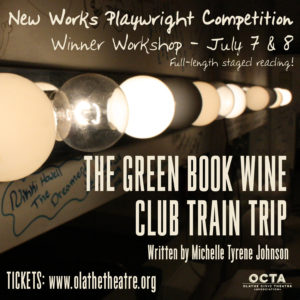 New Works Playwright Competition Winner Workshop
Featuring the full-length staged reading of
The Green Book Wine Club Train Trip by Michelle Tyrene Johnson
July 7 and 8 at 8 pm
Tickets: $10 (*$5 for OCTA Season Ticket Holders) | Buy tickets now!
WHO:
Olathe Civic Theatre Association is pleased to present a full-length staged reading from the winner of the New Works Playwright Competition, The Green Book Wine Club Train Trip by Michelle Tyrene Johnson.
Click here for Playwright bio.
THE GREEN BOOK WINE CLUB TRAIN TRIP
Written by Michelle Tyrene Johnson
WHAT:
The New Works Playwright Competition is a unique opportunity for local playwrights to get their name out in the community and have a chance to workshop their production on the OCTA stage.
WHY:
OCTA continues to seek ways to provide aspiring artists opportunities to grow. We feel our unique space and collaborative spirit can provide a safe environment for aspiring playwrights to be heard.
TICKETS are available online now.
*Season Ticket Holders get a special $5 ticket for this event, but must purchase tickets at the box office. Call ahead or write to let us know you're coming at tickets@olathetheatre.org or 913-782-2990.
PLAN YOUR VISIT TO OCTA
Tickets may be purchased with credit card, check, or cash. Free parking is available in the OCTA lot and on the street. Concessions are available for cash or credit donation and may be taken into the theater.