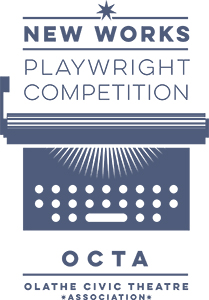 WHAT:
Olathe Civic Theatre Association (OCTA) will host its third annual New Works Playwright Competition, a unique opportunity for local playwrights to get their name out in the community and have a chance to win a workshop performance of their production on the OCTA stage!
Submissions will consist of a 10-15 minute teaser for a full-length play and should be performance ready. Our patrons will be invited to a weekend long event showcasing five finalists and will vote on the new work they wish to see workshopped as a full-length version on the OCTA stage. Only submissions that have not previously been professionally produced will be considered. However scripts which have been produced at the KC Fringe Festival will now be considered by the selection committee if the show ran 60 minutes or fewer in its original format. Playwrights are encouraged to e-mail competition chair, Andrew Joseph Brown, at OCTANewWorks@gmail.com for clarification or questions.
WHO:
Playwrights: Aspiring and established playwrights residing in Kansas or in the Kansas City area (Jackson, Clay, Platte, or Cass counties).
US:
OCTA is an all-volunteer 501(c)(3) organization producing theatre in Olathe since 1974. Performing in the Buddy Rogers Family Playhouse, OCTA produces five high-quality, engaging, and thought-provoking theatre productions a year. Through the generosity of volunteers, season ticket holders, donors, the city, and the community, in addition to a dedicated board of directors, OCTA has grown into one of the most progressive community theaters in the entire Kansas City metropolitan area.
WHY:
OCTA continues to seek ways to provide aspiring artists opportunities to grow. We feel our unique, intimate space and collaborative spirit can provide a safe environment for aspiring playwrights to be heard.
WHEN:
Deadline for submission: November 15, 2018
New Works Playwright Competition Showcase/Finals: March 1 & 2, 2019
Winner Workshop Performances: July 12 & 13, 2019
WHERE:
Olathe Civic Theatre Association
500 E. Loula | Olathe, KS 66061
Phone: (913) 782-2990 | Web: www.olathetheatre.org
HOW:
Send a 10-page teaser of a full length play (60+ pages) to OCTANewWorks@gmail.com
▪ The teaser should showcase the theme of your play. This is what will be presented in a staged reading to our patrons if chosen.
▪ Selection committee will narrow submissions to 10 semi-finalists. Semi-finalists will be asked to submit a completed play. Please note: Excessive language that does not further characterization or plot will not be accepted on the OCTA stage.
▪ Selection committee will then narrow the selection to five script teasers that will be shown at the New Works Playwright Competition Showcase in March.
▪ Submissions should be in .pdf format.
▪ This is a blind submissions process. Scripts containing the playwright's name in the .pdf will not be considered.
▪ Please put "(Title of play): OCTA New Works" as the subject line in the email.
▪ Body of submission email should contain playwright's name, synopsis of play in 100 words or fewer, and a character list. Only characters in the teaser are necessary for this purpose.
▪ Playwrights can submit up to two plays for consideration.
▪ Only electronic submissions will be considered.
▪ Musical submissions will be accepted, however we ask that you include a demo of songs to be performed at the reading. Should your work be selected, performers will be expected to sing with a recorded track as musicians will not be provided.
▪ Playwrights will be expected to provide a director and actors to perform. OCTA will assist in the process as needed but is not responsible for casting.