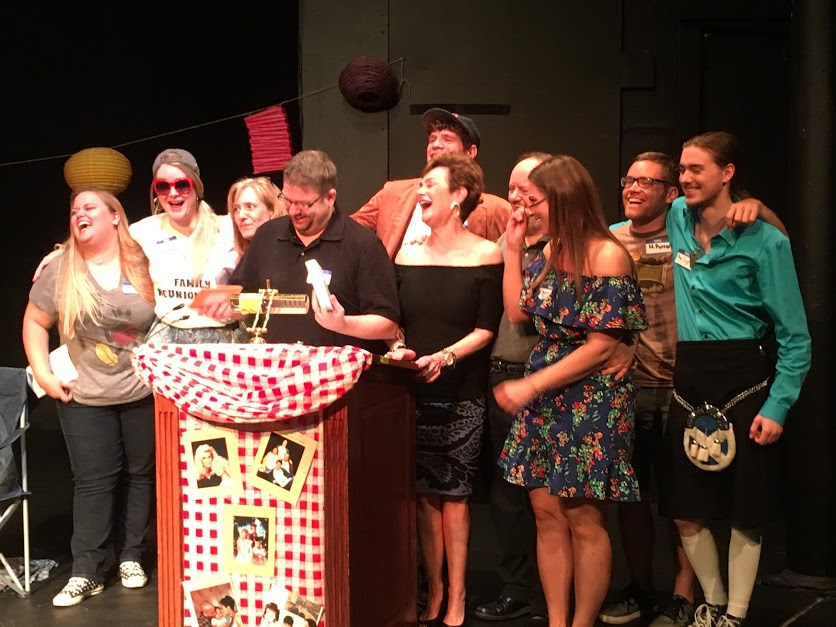 06 Jun

OCTA's 2017 Buddy Award Recipients Announced, Now With Video and Photo Links!

Thank you to all who attended the 2017 Buddy Awards celebration which was held Saturday, June 3, and to everyone who made the OCTA 2016-17 season one of the most successful in many years! In addition to our current casts, creative teams, subscribers, and volunteers, we were thrilled to also welcome John Vaughn, musician and friend of former Olathean Charles "Buddy" Rogers. John not only shared the story of how he met Buddy, but also played a popular song written for the beloved silent film star (and namesake of our building) at the height of his career. Watch the video of John and hear him play the song "My Buddy". For long-time OCTA fans and cinema history buffs, this was a powerful moment.

Another highlight of the evening was board member Charlotte Gilman's Hamilton-inspired parody music video, OCTA: An American Theatre, featuring every cast throughout the season and our board. Photos of the evening, by Rita Marks and Andrew Joseph Brown, are posted on our Facebook page!

Still can't get enough of last season? Be sure to watch our season-ending thank you slide show.  It truly was a sensational year and we couldn't have done it with out the support of our patrons, volunteers, board, and the many talented individuals who made it happen.

Congratulations to the many award recipients listed below*!

-Leading Actor: Peter Leondedis, One Man, Two Guvnors

-Leading Actress: Julia Masterson, The Best Christmas Pageant Ever

-Supporting Actor: Matt Leonard, Poor Relations

-Supporting Actress: Lucy McClung, The Best Christmas Pageant Ever

-Character Actor: Joshua Gleeson, One Man, Two Guvnors

-Character Actress: Lindsay Lovejoy, The Best Christmas Pageant Ever

-Cameo: Meredith Kiesling, The Best Christmas Pageant Ever

-Sound Design: Michael Bunn, Poor Relations

-Lighting Design: J. Patrick Inlow, Altar Boyz

-Costume Design: Julie Ewing, One Man, Two Guvnors

-Properties Design: Kate Haugan, Poor Relations

-Stage Manager: D.K. Evenson, Poor Relations

-Set Design: J. Patrick Inlow, Altar Boyz

-Director: Tina Morrison, Poor Relations

-Individual Musical Achievement: James Levy, Music Direction Altar Boyz

-Best Show: Vanya and Sonia and Masha and Spike (Director Nino Casisi, cast, and production team in featured image above. )

-Amy Pierron Volunteer of the Year Award: Victoria and Shawn Hoffman

-Smith-Moyer Award for Outstanding Board Service: Rita Marks

For information about OCTA's exciting 2017-2018 season and to purchase a subscription, visit: http://olathetheatre.org/2017-2018-season/

UP NEXT AT OCTA!

Don't miss the New Works Playwright Competition Winner Workshop of the wildly popular script The Green Book Wine Club Train Trip by Kansas City playwright Michelle Tyrene Johnson, July 7 and 8 at 8 pm. More info and tickets: here.

*Acting, directing, and best production awards are voted on throughout the season by OCTA subscribers. Technical award recipients are determined by a committee of local theatre practitioners and the two special achievement awards are designated anonymously by members of the OCTA board.