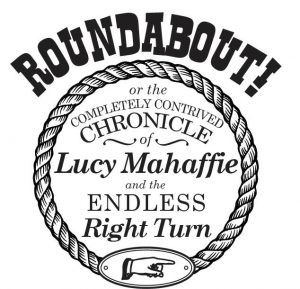 Apr 28 – Apr 29, 2018 
Location: Mahaffie Stagecoach Stop & Farm Historic Site
1200 E Kansas City Rd, Olathe, Kansas 66061
Appropriate for all ages!
Summary: Lucinda Mahaffie needs a birthday present for James Mahaffie. She gets 'stuck' in a roundabout on her way to town. The rest is 'history'.
In celebration of the 200th Anniversary of the birth of James Beatty Mahaffie, Mahaffie Stagecoach Stop & Farm Historic Site and Olathe Civic Theatre Assocation are cooking up some fun for the whole family with an old-fashioned melodrama packed with more fiction than fact, but a whole lot of fun that gives Olathe's history with the 'roundabout'!
See our Very Silly Promo Video!
…and Meet our Very Silly Cast of Characters! (on Facebook)
See our Very Sill Rehearsal Photos! (on Facebook)
PARKING: The day of the performance, please park in the parking lot near the Mahaffie House, not the Heritage Center. Signs will direct parking.
GOOD DEED: Proceeds go to Title I field trip scholarships to Mahaffie and maintenance of OCTA's historic theatre building on Loula Street.
BAD WEATHER/REFUND POLICY: In case of inclement weather or conditions on either date, the event needs to be cancelled, tickets will not be refunded. Thank you.
Cast (In order of appearance):
Narrator – Like the lead singer who doesn't play an instrument – Peter Leondedis
Re-Bekah – Girl guide – Rebekah Grieb
Beatty Mahaffie – Old guy, proprietor of Mahaffie Stagecoach Stop – Charles Christesson Jr.
Lucy Mahaffie – Less old, Beatty's wife, mother of 8 – Tracy Fox
Laffy Mahaffie – Female teen, Lucy and Beatty's daughter – Jo Bledsoe Collins
Daffy Mahaffie – Female teen, Lucy and Beatty's daughter – Jenn Ward
Zeke Mahaffie – Male, young man, Lucy and Beatty's son – Camille Lerch
Sevenee Leven – Sufficient store owner – bad guy – Reed Uthe
Sir Carl Kay – Henchman – Derrick Freeman
Prairie Center – Hero – Sean Tevis
Grace Keeler – Goat Keeper – Amanda Albert
Cherry Anne Chestnut – Local girl, inexplicably wearing bridal gown – Lauren McDonnell
Goats: Tom and Huck – They are actual Spanish goats.
PRODUCTION TEAM
Director and Co-Author – Shelly Stewart Banks
Co-Author – Peter Leondedis
Stage Manager – Rita Marks
Accompanist – Roberta Wilkes
Costumes – Staff and volunteers of Mahaffie Stagecoach Stop and Farm
#RoundaboutOCTA; #OCTATheatre; #OlatheProud