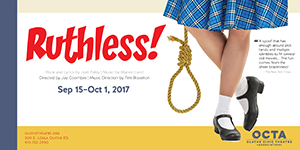 September 15 – October 1, 2017
Book and Lyrics by Joel Paley | Music by Marvin Laird
Directed by Jay Coombes | Music Direction by Tim Braselton
Eight-year-old Tina Denmark knows she was born to play Pippi Longstocking, and she'll do anything to win the part in her school musical. Her mother, fellow students, and the rest of the world had better watch out because nothing will stop her quest for stardom!! Cunningly spoofing classic musicals and campy films from Gypsy to The Bad Seed, this aggressively outrageous musical garnered rave reviews during its long Off-Broadway run.
The show runs September 15 – October 1, 2017 | Fridays/Saturdays at 8 pm & Sundays at 2 pm.  There will be a post-show director/cast talkback hosted by Dr. Chris McCoy, Assistant Professor of Theatre at William Jewell College and author of the dissertation "Mockmusicals: Parody, Satire, and Musical Comedy at the Turn of the Twenty-First Century", Sunday, September 17.
A theatre industry performance has been added Monday, September 18 at 8:00 pm – $12 at the door for theatre creatives and administrators (tickets available at the door only).
Due to strong language and adult situations, Ruthless! is recommended for ages 13 and above.
Select Production Photos
Behind the scenes video
Press Release
Ruthless! Article by Dramaturg Quinn North
---
THE CAST
Sylvia St. Croix: Trevor A. French
Judy Denmark/Ginger: Stasha Case
Tina Denmark*:
Mia Cabrera – Performances: September 15, 17, 23, 29 and October 01

Joey Brogden – Performances: September 16, 18, 22, 24, and 30
Miss Thorn: Julia Moriarty
Louise Lerman*:
Eva Smith – Performances: September 15, 17, 23, 29 and October 01

Julia Masterson – Performances: September 16, 18, 22, 24, and 30
Lita Encore: Alecia Stultz
Eve: Korrie Murphy
*The roles of Tina and Louise are double cast. The actresses will make cameo appearances when not playing these roles.
PRODUCTION TEAM
Director and Choreographer: Jay Coombes
Music Director: Tim Braselton
Stage Manager: Kimberly Stelting
Properties: Sonja Coombes
Costumes: Libby Irving
Set Designer/Builder: Joel Short
Lighting Design: David Powell
Light Board Operator/Sound Design: Kendall Gross
Musicians
Tim Braselton – piano
Lindsay Lovejoy – bass
Crew
Brittany Becker
Bailey Kerkvliet
Logan Stelting
Taylor Stelting
Special thanks to Bill Case, Julie Fox, Debbie Proctor, Julie Ewing and Andrea Rodgers.
ACCOLADES

"A spoof that has enough absurd plot twists and multiple identities to fill several old movies… The fun comes from the sheer brazenness!" – The New York Times
"Hilarious…It is beyond praise!" – New York Daily News
"Wild amusement." – New York Post
"A demented pleasure. Cheery, cheeky burlesque humor that evokes Your Show of Shows." – New York Newsday
"Merry mayhem…Malicious, delicious, and a total joy." – New York Observer
"Brilliant." – USA Today