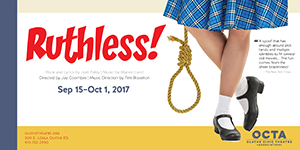 September 15 – October 1, 2017
Book and Lyrics by Joel Paley | Music by Marvin Laird
Directed by Jay Coombes | Music Direction by Tim Braselton
Eight-year-old Tina Denmark knows she was born to play Pippi Longstocking, and she'll do anything to win the part in her school musical. Her mother, fellow students, and the rest of the world had better watch out because nothing will stop her quest for stardom!! Cunningly spoofing classic musicals and campy films from Gypsy to The Bad Seed, this aggressively outrageous musical garnered rave reviews during its long Off-Broadway run.
The show runs September 15 – October 1, 2017 | Fridays/Saturdays at 8 pm & Sundays at 2 pm.
Tickets are available online now!
If you are a season ticket holder, we recommend making your reservations early to ensure your seats are reserved (email tickets@olathetheatre.org or call our reservation hotline at 913-782-2990 with preferred date and seats).
---
THE CAST
Sylvia St. Croix: Trevor French
Judy Denmark/Ginger: Stasha Case
Tina Denmark: Mia Cabrera & Joey Brogden*
Myrna Thorn/Miss Block: Julia Moriarty
Louise Lerman: Eva Smith & Julia Masterson*
Lita Encore: Alecia Stultz
Eve: Ramsey Self
*The roles of Tina and Louise are double cast – their specific performance dates will be posted on our website and Facebook soon. Stay tuned!
PRODUCTION TEAM
Director and Choreographer: Jay Coombes
Music Director: Tim Braselton
Lighting and Sound Design: J. Patrick Inlow
Properties: Sonja Coombes
Costumes: Libby Irving
ACCOLADES
"A spoof that has enough absurd plot twists and multiple identities to fill several old movies… The fun comes from the sheer brazenness!" – The New York Times