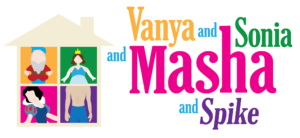 April 21 – May 7, 2017
By Christopher Durang
Directed by Nino Casisi
Middle-aged siblings Vanya and Sonia share a home in Bucks County, PA, where they bicker and complain about the circumstances of their lives. Suddenly, their movie-star sister, Masha, swoops in with her new boy toy, Spike. Old resentments flare up, eventually leading to threats to sell the house. Adding to the ensemble are sassy maid Cassandra, who can predict the future, and Nina, a lovely young aspiring actress.
Tickets are available online now!
If you are a season ticket holder, we recommend making your reservations early to ensure your seats are reserved (email tickets@olathetheatre.org or call our reservation hotline at 913-782-2990 with preferred date and seats).
---
THE CAST
Click here for cast photos/bios.
Click here for the press release.
Click here for the video.
Vanya – Bill Pelletier
Sonia – Ellen DeShon
Masha – Jeannie Blau
Spike – David Webster
Nina – Lauren McDonnell
Cassandra – Meghann Deveroux

PRODUCTION TEAM
Nino Casisi – Director
Patrick Mitchell – Assistant Director and Assistant to the Costumer
Kevin Albee/Nino Casisi – Technical Directors
Jo Bledsoe-Collins – Stage Manager
RubyRenee Wood – Costumes
April Hall – Property Design
Chuck Cline – Lighting Design
Dustin Kleba – Sound Designer
Ted Collins – Assistant Stage Manager
ACCOLADES
"Broad comic acting is raised to the level of high art…deliriously funny…a heedless good time." —NY Times
"…riotous…the show's a ton of fun even if you can't tell your Seagull from your Uncle Vanya…This is the kind of full-on comedy that's sadly rare on Broadway." —NY Post
"Hugely entertaining…few contemporary playwrights have proven as deft as Durang at mining both the absurdity and the dangers of human folly…in its own deliciously madcap way, the new work offers some keen insights into the challenges and agonies of twenty-first-century life." —USA Today
Season Ticket Holders can make reservations by writing tickets@olathetheatre.org or by calling our reservation hotline at 913-782-2990. Indicate preferred date and seats.
PLAN YOUR VISIT TO OCTA
Tickets may be purchased with credit card, check, or cash. Free parking is available in the OCTA lot and on the street. Concessions are available for cash or credit donation and may be taken into the theater.