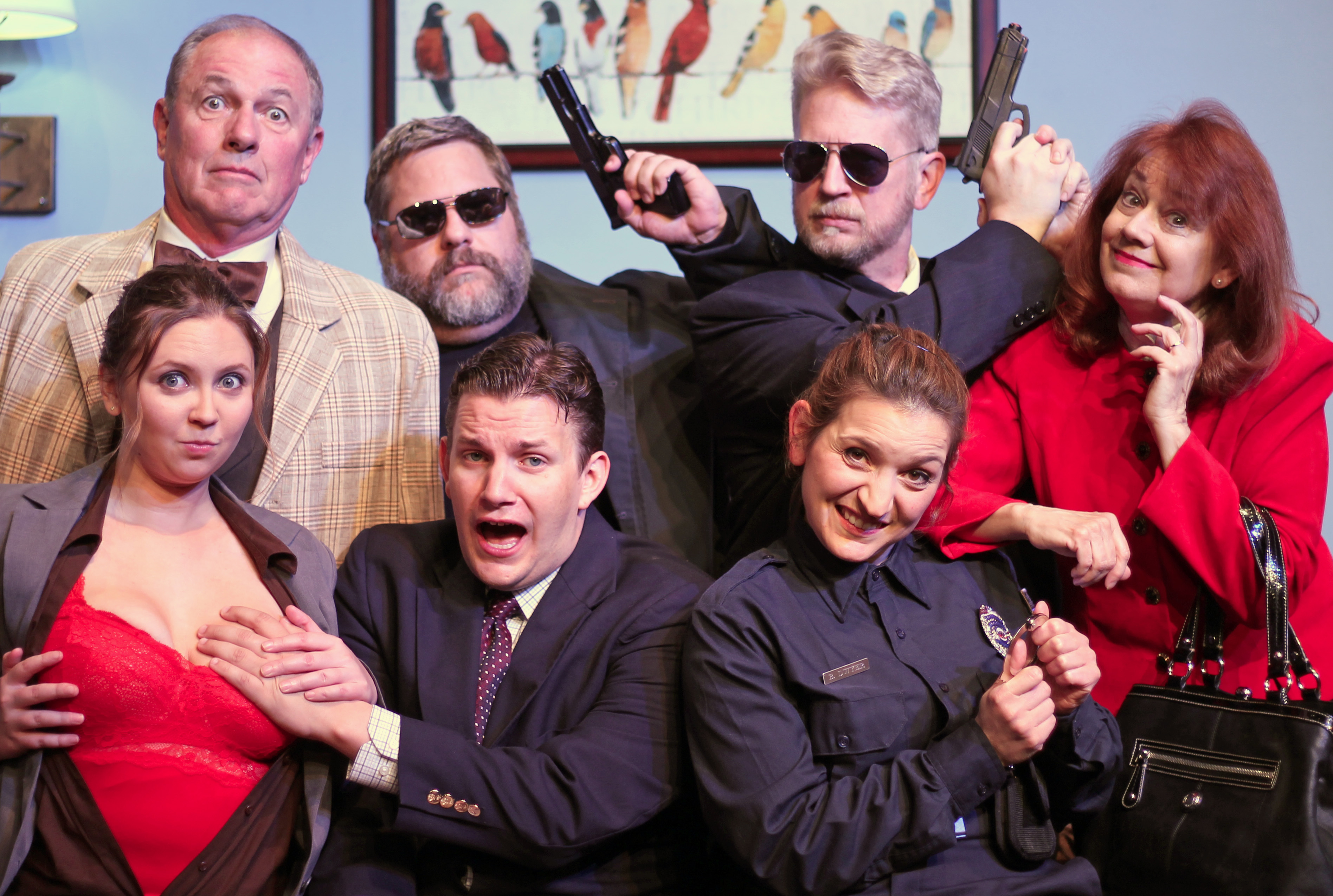 07 Jun

UNNECESSARY FARCE Production Photos and Press Release

Select Production and PR Photos from UNNECESSARY FARCE: Shelly Stewart Banks – April & May 2018.

Production dates: June 1 – 17  Fri/Sat at 8 pm & Sun 2 pm. Directed by Bill Pelletier.

Upload the Official Unnecessary Farce Press Release.

The Cast of UNNECESSARY FARCE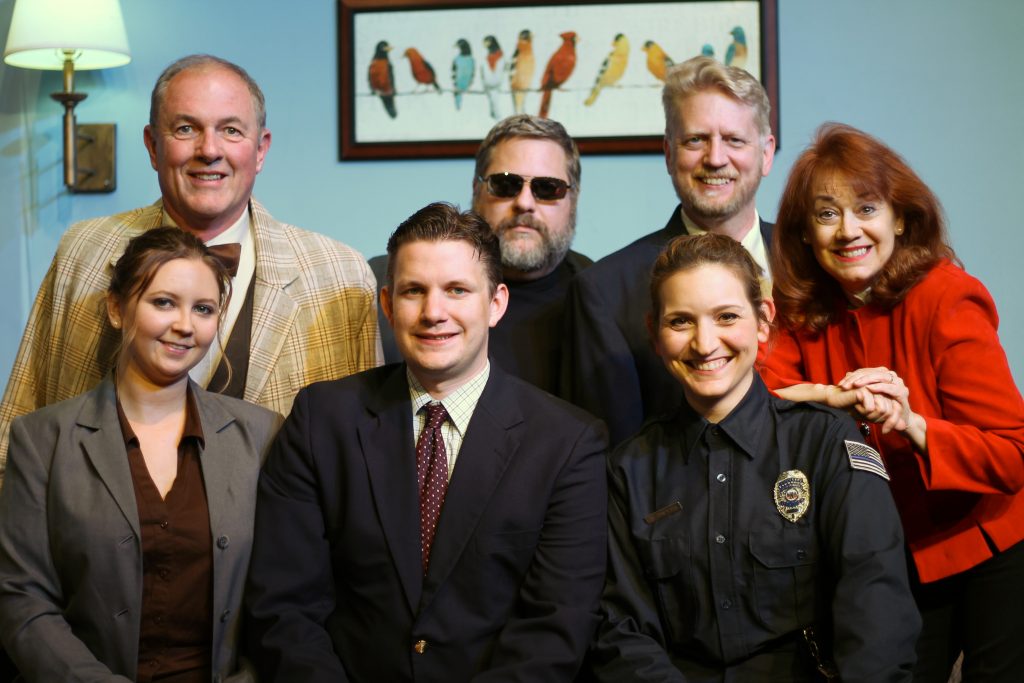 Back Row: Bill Bergman, Mike Tufano, Reed Uthe, Joyce Halford
Front Row: Laura Irwin Henrickson, Matthew Henrickson, Jessica Franz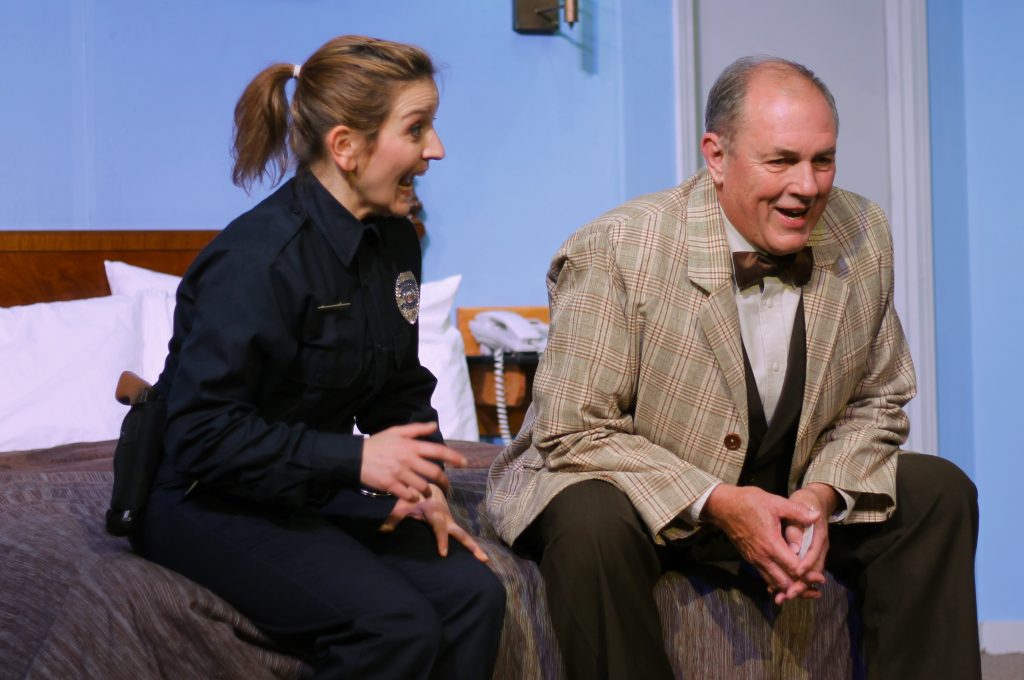 Jessica Franz and Bill Bergman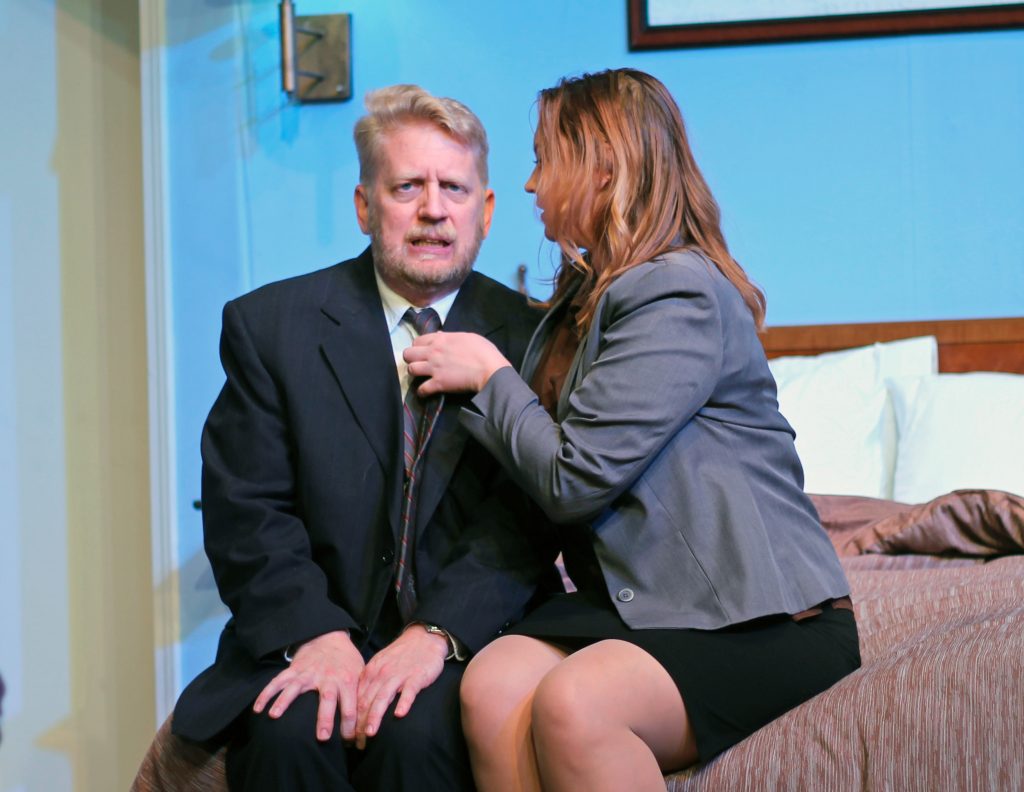 Reed Uthe and Laura Irwin Henrickson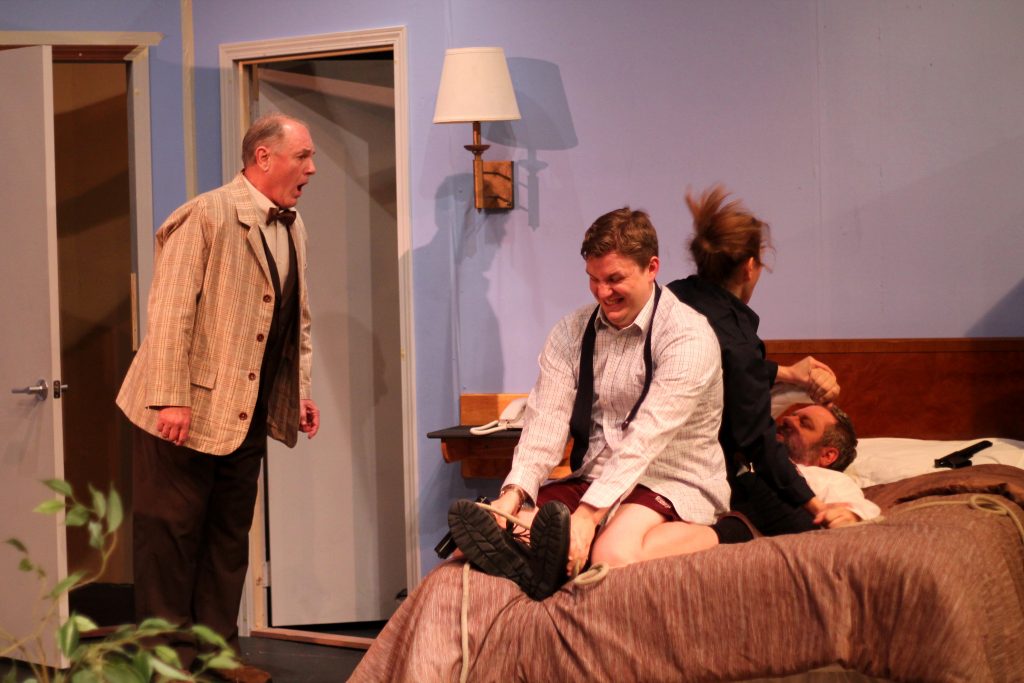 Bill Bergman, Matthew Henrickson, Jessica Franz, Mike Tufano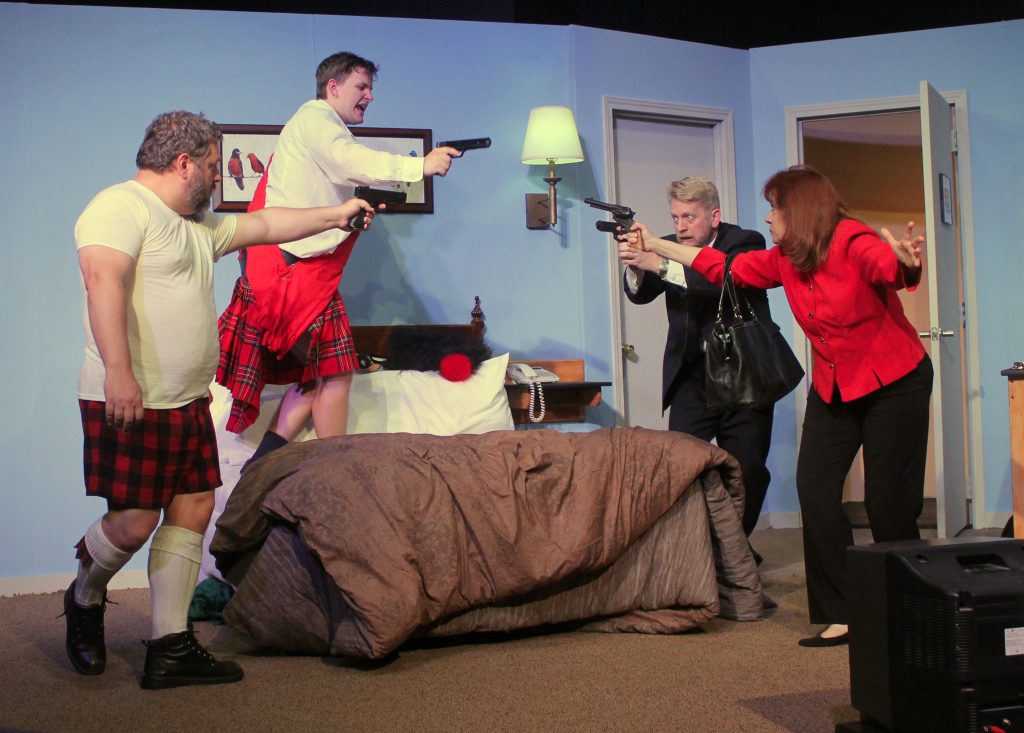 Mike Tufano, Matthew Henrickson, Reed Uthe, Joyce Halford
Matthew Henrickson                                Jessica Franz                                       Reed Uthe
 Laura Irwin Henrickson          Bill Bergman                         Joyce Halford                         Mike Tufano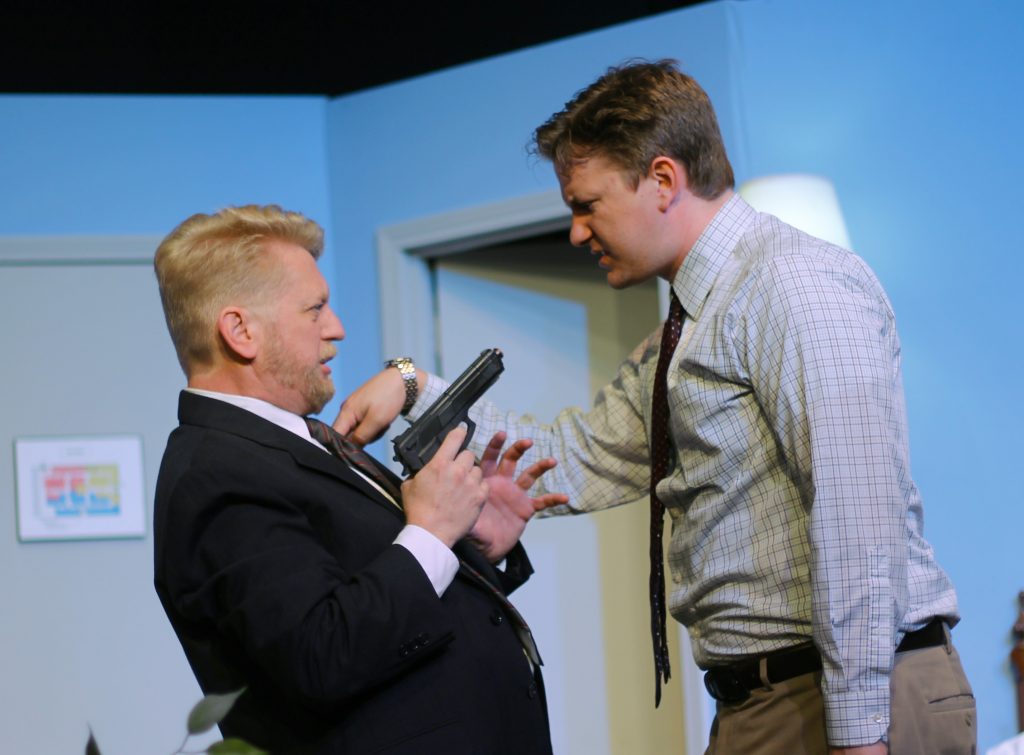 Reed Uthe and Matthew Henrickson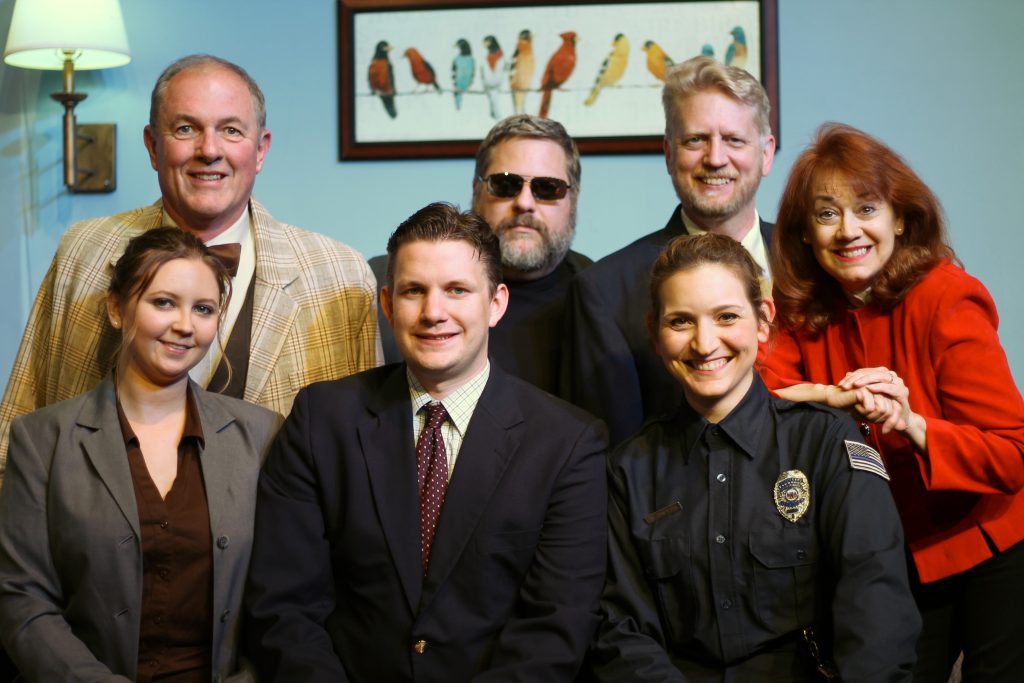 UNNECESSARY FARCE: The Cast
Official UNNECESSARY FARCE Press Release Below
UNNECESSARY FARCE slams into Olathe Civic Theatre Association
8 Doors, 2 Cops, 1 Unbelievable Heist! High Energy Comedy Runs June 1 – 17
Olathe, KS (May 25, 2018) – Olathe Civic Theatre Association concludes its 2017-2018 season with the comedy, UNNECESSARY FARCE, by Paul Slade Smith. In an economy motel room, an embezzling mayor is supposed to meet with his female accountant. In the room next door, two undercover cops are supposed to catch the meeting on videotape. But there's some confusion as to who is in which room, who is watching the video, who has taken the money, and who hired a hitman. This fast-paced farce is a comic gem running June 1 – 17, directed by Bill Pelletier.
Set in present day, the story follows a cast of characters as they try to stay alive, but under false pretenses. The audience enjoys the ride as they watch the cops struggle with capturing the bad guys, while the bad guys turn out to be, shall we say, not the biggest threat in the motel. Throw in an excitable accountant as a sexy, comedic foil, and these characters go from on top of things to on top of each other.
Bill Pelletier returns to OCTA at the helm of UNNECESSARY FARCE. "OCTA seemed the perfect space and group to present the 'show I've been wanting to do for a while now.'So began the task of finding our cast and production team and beginning the rehearsal process to bring some escapism and laughter to our audience." Pelletier was featured in OCTA's last production SUPERIOR DONUTS, which brought comedy, heart, and drama to the stage. His current show is a door-slamming farce aiming for big laughs.  However, the two shows have one important item in common – according to Pelletier: "more shows could benefit from featuring donuts. I imagine Blanche DuBois would have been a lot less unhappy in STREETCAR if she had a nice fresh cruller or two. I'm approaching this show with the thrill of wanting to do it since I first saw a production several years ago. I laughed a lot. A lot. Just ask the people who sat near me."
Reflecting on his recent experience with SUPERIOR DONUTS and now his involvement with UNNECESSARY FARCE, Pelletier notes that the joy of "getting to do something you love, sharing the rehearsal process with a talented cast and bringing a laugh-filled escape to audiences, is even better than a warm donut." He goes on to say, "If audiences loved the variety of characters and laughs in DONUTS, they will love the step further that FARCE takes to make a great evening of laughs.  The 'dual dialogue' and 'special quirk' of each character makes for a fun ride."
What would Pelletier say to brand new OCTA audiences about the show? "Where have you been? Welcome. Come in and laugh with us for a while. And thank you." He encourages people to continue to support live theatre and to spread the word about UNNECESSARY FARCE at OCTA. In keeping with the silly vein of the show, Pelletier offers this snappy tagline with a wink: "At Last! Another comedy completely different from some of the other comedies which aren't quite the same as this one."
A few cast members make their OCTA debut in UNNECESSARY FARCE including real-life husband and wife dynamic duo, Matthew Henrickson (Officer Eric Sheridan) and Laura Irwin (Karen Brown. Mike Tufano (Todd) also makes his OCTA debut alongside returning OCTA Properties Designer and fiancée, Amanda Rhodes. Returning to OCTA are Jessica Franz (Officer Billie Dwyer), Bill Bergman (Mayor Meekly), Reed Uthe (Agent Frank), and Joyce Halford (Mary Meekly).
As Director and Sound Designer, Bill Pelletier brings with him the following production team:  D.K. Evenson (Stage Manager), Bill Wright (Set Design/Build), Chuck Cline (Lighting Design), Amanda Rhodes (Properties Design/Sound Board Operator), Marla Gonzales (Costume Design), and Quinn North (Dramaturg).
Tickets are available online at www.olathetheatre.org, or at the door an hour before performances. OCTA season ticket holders are encouraged tomake seating reservations early by calling 913-782-2990 or by e-mailing tickets@olathetheatre.org. Ticket prices range from $18 to $13 as follows: adults $18, seniors 55+/students/military $15, and groups (8 or more) $13 prepaid.
On opening night, June 1, guests will be treated to a post-show celebration with the cast and crew!
UNNECESSARY FARCE is appropriate for ages 13 and above with adult situations and strong some language.
A Special THANK YOU | Building Update: We're Over Halfway There!
As part of OCTA's $130,000 fundraising campaign to make critical repairs and updates to the organization's nearly 150-year-old building, the board is thrilled to announce that, with the help of its patrons, the theatremet a $10,000 calendar year end match offered by an anonymous donor. Combined with a generous grant from The Sunderland Foundation and efforts from board and volunteers, this has allowed OCTA to complete phase one of work to the interior of the building. Fundraising for phase two, which consists of outdoor projects such as painting/siding, replacement of the parking lot, and replacement of two new HVAC units continues. To read more, visit olathetheatre.org/donate.
ABOUT OLATHE CIVIC THEATRE ASSOCIATION
Olathe Civic Theatre Association is a 501(c)3, all volunteer organization, producing theatre in Olathe since 1974. Performing in the Buddy Rogers Family Playhouse, OCTA produces five high-quality, engaging, and thought-provoking theatre productions a year. Through the generosity of volunteers, season ticket holders, and donors, OCTA has grown into one of the most successful and progressive community theaters in the Kansas City metropolitan area.
OCTA'S Remaining 2017-2018 Season
Ticket information for all productions and special events can be found at www.olathetheatre.org.
UNNECESSARY FARCE – June 1-17, 2018
By Paul Slade Smith | Directed by Bill Pelletier
Two cops, three crooks, eight doors…go! In a cheap motel room, an embezzling mayor is supposed to meet with his female accountant, while in the room next door, two undercover cops wait to catch the meeting on videotape. But there's some confusion as to who's in which room, who's watching the video, who's taken the money, and who's hired a hit man. This fast-paced physical comedy is a comic gem!
SPECIAL EVENT: New Works Playwright Competition Winner Workshop – July 13 & 14, 2018
Full-length workshop reading of Jessie Salsbury's ADOPTION OF GRIEF, winner of the March finals!
 About ADOPTION OF GRIEF: An African-American college student seeks answers after her sister unexpectedly dies, having left behind notes indicating that the decedent's daughters are to be adopted into the same white family that her son was secretly adopted by years before. The student must discover the reasons why her sister would trust her children to an unknown white woman, uncovering the difficulties of interracial adoption and dealing with society's view of an "acceptable" family.
Social and Digital Media
Receive updates by liking OCTA's Facebook page at www.facebook.com/olathecivictheatreand following OCTA on Instagram and Twitter at @OCTATheatre.
###
Please direct all media inquiries to:  Charlotte Gilman at 913-484-1651 (cell)or asgcroc@aol.com.
For further information or tickets, please visit our Web site at www.olathetheatre.org.
Reservations can be made by calling the reservation hotline at 913-782-2990 or by writing tickets@olathetheatre.org.