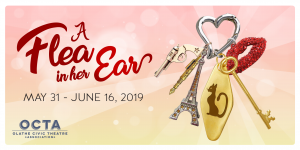 May 31 – June 16, 2019 – Fridays and Saturdays at 8 pm | Sundays at 2 pm
Georges Feydeau's farce adapted by David Ives
Directed by David Martin
Auditions will be held Feb. 11th 7:00pm to 10:00pm with invited callbacks on Feb. 16th noon to 4:00pm.
CLICK HERE for more information.
As Raymonde suspects her suddenly uninterested husband is having an affair, she cooks up a trap to catch him in the act. Hilarity ensues as everything inevitably goes horribly wrong triggering laughs galore. Touted as the "greatest of French farces", this dazzling comedy, and winner of the 2006 Jefferson Award for best adaptation, David Ives' version of Georges Feydeau's masterpiece achieves levels of glorious ridiculousness only an absurdist of Ives' caliber can bring.
"…a hilarious evening of classic comedy." — Chicago Critic
SPECIAL DATES:
*Opening night, May 31, 2019: Guests will be treated to a post-show celebration with the cast and crew!
PLAN YOUR VISIT TO OCTA
Tickets may be purchased with credit card, check, or cash. Free parking is available in the OCTA lot and on the street. Concessions are available for cash or credit donation and may be taken into the theater.