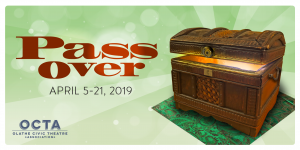 Apr 5 – Apr 21, 2019 – Fridays and Saturdays at 8 pm | Sundays at 2 pm
By Kansas City playwright Michelle Tyrene Johnson*
Directed by Teresa Leggard
The Washingtons, an African-American family, have lived next door to the Levy family in a Philadelphia neighborhood for a few generations. In the wake of the death of the Washington family matriarch, a brother and sister come together to bury their beloved grandmother. The finding of old stock, by the Washington family, in the Levy family business, triggers the revelation of secrets, tensions, and reckonings.
If you are a season ticket holder or have a pre-sale/comp ticket, we recommend making your reservations early to ensure your seats are reserved by emailing tickets@olathetheatre.org or call 913-782-2990 with performance date and ticket type. Accessible seating and assistance are available.
SPECIAL DATES:
Opening night, April 5, 2019: Guests will be treated to a post-show celebration with the cast and crew!
Saturday, April 6, 2019: Guests are invited to a post show talk back with playwright Michelle Tyrene Johnson.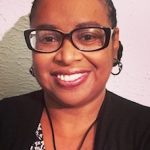 Michelle Tyrene Johnson is a public radio journalist, author, and speaker who lives in the Kansas City, Missouri area. As a playwright, Johnson's plays have been staged nationally, including in California, Texas, Illinois, Connecticut, Pennsylvania, Michigan, and Kentucky. Several of her plays, such as "Wiccans in the Hood," "The Negro Whisperer," "Trading Races: From Rodney King to Paula Deen," and "Echoes of Octavia" have been seen in several New York City festivals and competitions. "The Green Book Wine Club Train Trip"  seen recently at Kansas City's Melting Pot Theatre was the inaugural winner of OCTA's New Works Playwright Competition in 2017.
CAST
Angelique Washington – Ebonee Grace
Paul Washington – Robert E. Coppage III
Gloria Washington – Laura Schwartz
Jake Levy – Jonathan Sachsman
Dianna Levy – Larissa Briley
CREATIVE TEAM
Director – Teresa Leggard
Stage Manager – Alexa Cioffi-Abt
Set & Lighting Designer – Theresa Kelly
Sound Designer – Camille Lerch

LEARN MORE
PLAN YOUR VISIT TO OCTA
Tickets may be purchased with credit card, check, or cash. Free parking is available in the OCTA lot and on the street. Concessions are available for cash or credit donation and may be taken into the theater.