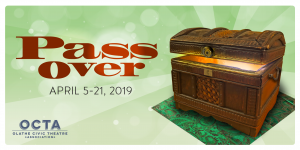 Apr 5 – Apr 21, 2019 – Fridays and Saturdays at 8 pm | Sundays at 2 pm
By Kansas City playwright Michelle Tyrene Johnson*
Directed by Teresa Leggard
For audition information, CLICK HERE.
The Washingtons, an African-American family, have lived next door to the Levy family in a Philadelphia neighborhood for a few generations. In the wake of the death of the Washington family matriarch, a brother and sister come together to bury their beloved grandmother. The finding of old stock, by the Washington family, in the Levy family business, triggers the revelation of secrets, tensions, and reckonings.
*Michelle Tyrene Johnson, author of Pass Over, was the winner of Olathe Civic Theatre Association's inaugural New Works Playwright Competition for her play The Green Book Wine Club Train Trip in 2017!
SPECIAL DATES:
*Opening night, April 5, 2019: Guests will be treated to a post-show celebration with the cast and crew!
PLAN YOUR VISIT TO OCTA
Tickets may be purchased with credit card, check, or cash. Free parking is available in the OCTA lot and on the street. Concessions are available for cash or credit donation and may be taken into the theater.