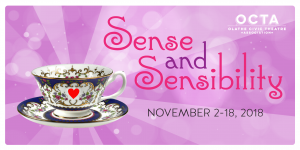 Nov 2 – Nov 18, 2018 – Fridays and Saturdays at 8 pm | Sundays at 2 pm
Jane Austen's classic novel adapted by Jon Jory
Directed by Jessica Franz
In this witty comedy of manners, two sisters who are alike only in their pursuit of happiness find themselves financially destitute and socially vulnerable after their father's sudden death. Will Elinor's common sense or Marianne's impulsive passion offer up the key to living "happily ever after"? Expect the unexpected as this spirited tale of flirtation and folly bounds onto the OCTA stage in this boisterous adaptation of one of Austen's beloved stories.
"[Has] a freshness, speed, and … contemporary energy that is downright irresistible." — Chicago Sun-Times
"…a quick-moving and sprightly comedy." — Time Out Chicago
SPECIAL DATES:
– Opening night, November 2: Guests
will be treated to a post-show celebration with the cast and crew!
– November 3rd there will be a talkback after the performance led byUMKC English Professor, and member of the Jane Austen Society of North America-Metropolitan Kansas City Region, Dr. Jennifer Frangos! Hear more about the play, the book, and Jane Austen in this fun and enlightening discussion.
CAST
Colonel Brandon – Derrick Freeman
Edward Ferrars – Khalid Johnson
Elinor Dashwood – Erika Crane Ricketts
Ensemble – Amanda Bass
John Willoughby – Kyle Tichenor
Lady Middleton – Jeannie Blau
Lucy Steele – Amy Reinhardt
Marianne Dashwood – Meghann Deveroux
Mr. John Dashwood – Don Leonard
Mrs. Ferrars – Irene Blend
Mrs. Henry Dashwood – Tracy Fox
Mrs. Jennings – Karla M. Fennick
Mrs. John Dashwood – Victoria Hoffman
Ms. Grey – Lauren Crane
Robert Ferrars – Patrick Peterson
Sir John Middleton – Charles Christesson
CREATIVE TEAM
Director – Jessica Franz
Stage Manager – D.K. Evenson
Choreographer – Valerie Martin
Set Designer – Bill Wright
Lighting Designer – Chuck Cline & Camille Lerch
Props Designer – Rita Marks
Costume Designer – Sarah Jeter
Sound Designer – Erin Brown
Dialect Coach – Tamara Kingston
Learn more about the show, cast, and creative team:
Interview with the Director, Jessica Franz
Just a little fun with the cast & crew
PLAN YOUR VISIT TO OCTA
Tickets may be purchased with credit card, check, or cash. Free parking is available in the OCTA lot and on the street. Concessions are available for cash or credit donation and may be taken into the theater.