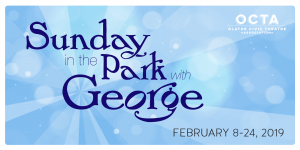 Feb 8 – Feb 24, 2019 – Fridays and Saturdays at 8 pm | Sundays at 2 pm
Music and lyrics by Stephen Sondheim | Book by James Lapine
Directed by Tiffany Coville-Schweigert
Click here for audition details.
A blank page or canvas. So many possibilities. A moving study of the enigmatic artist Georges Seurat and his famous painting, A Sunday Afternoon on the Island of La Grande Jatte, this stunning musical merges past and present into beautiful and poignant truths about life, love, and the creation of art. Winner of the 1985 Pulitzer Prize for drama and nominated for an astounding ten Tony Awards, this masterpiece by the legendary team of Stephen Sondheim and James Lapine will inspire you long after you leave the theatre.
"…one of Mr. Sondheim's richest and most intricately composed scores." — New York Times
SPECIAL DATES:
*Opening night, February 8, 2019: Guests will be treated to a post-show celebration with the cast and crew!