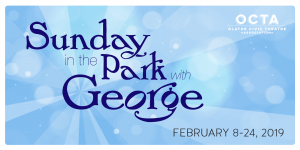 Feb 8 – Feb 24, 2019 – Fridays and Saturdays at 8 pm | Sundays at 2 pm
Music and lyrics by Stephen Sondheim | Book by James Lapine
Directed by Tiffany Coville-Schweigert
Music Directed by Betsy Bledsoe
A blank page or canvas. So many possibilities. A moving study of the enigmatic artist Georges Seurat and his famous painting, A Sunday Afternoon on the Island of La Grande Jatte, this stunning musical merges past and present into beautiful and poignant truths about life, love, and the creation of art. Winner of the 1985 Pulitzer Prize for drama and nominated for an astounding ten Tony Awards, this masterpiece by the legendary team of Stephen Sondheim and James Lapine will inspire you long after you leave the theatre.
"…one of Mr. Sondheim's richest and most intricately composed scores." — New York Times
CAST
George Seurat – Joel Morrison
Dot / Marie – Victoria Strafuss
Old Lady / Blair Daniels – Debbie Blinn
Nurse / Mrs. / Harriet Pawling – Julie Fox
Jules / Bob Greenberg – Scott Kruse
Yvonne / Naomi Eisen – Joy Richardson
Boatman / Billy Webster – Spencer Thompson
Franz / Dennis – Michael Golliher
Frieda / Betty – Kristen Alley
Soldier / Alex – Alec Bridges
Mr. / Charles Redmond – Chris Gleeson
Louis /Lee Randolph – Matt Runnells
Celeste #1 / Elaine – Christina Casey
Celeste #2 / A Photographer – Nancy Seeman
Louise – Abby Morrison
CREATIVE TEAM
Director – Tiffany Coville-Schweigert
Music Director – Betsy Bledsoe
Stage Manager – Nicole Brewer
Asst. Stage Manager – Amanda Tufano and Ran Anderson
Set designer – Doug Schroeder
Costumes Designer – Brenna McConaughey and Alison Nickel
Lighting Designer – Phil Leonard
Sound Designer – Joshua Finch
Props Designer – Em Loper
Projections – Tom Eagle
ORCHESTRA
Reed 1 – Ron Mundt
Reed  – Jim Vinkenberg
Keyboard 1 – Matthew Fischer
Keyboard 2/Synthesizer – Deana Wagner
Percussion – John Gilmore
Violin 1 – Michael Turnbo
Violin 2 – Emily Gooden, Kim Ico
Cello – Kieran Ojakangas
LEARN MORE ABOUT THE SHOW, CAST, AND CREATIVE TEAM:
SPECIAL DATES:
*Opening night, February 8, 2019: Guests will be treated to a post-show celebration with the cast and crew!