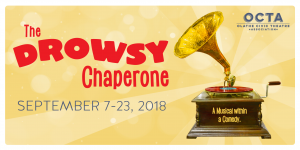 Sept 7 – Sept 23, 2018 – Fridays and Saturdays at 8 pm | Sundays at 2 pm
Music & Lyrics by Lisa Lambert and Greg Morrison
Book by Bob Martin and Don McKellar
Directed by Julie Ewing | Music Direction by Kevin Bogan
Tickets are available online. Click here to get yours now! 
Season Ticket Members can make reservations by writing tickets@olathetheatre.org or by calling our reservation hotline at 913-782-2990. Indicate preferred date and seats (seating chart).  Learn how to become a season ticket member here and save up to 20% per show!
An epic "musical within a comedy", this brilliantly funny Tony Award-winner is a celebration of the American musical that harkens back to the jazz age of the 1920s. When a loyal fan shares a rare recording of his favorite musical, the characters come to life in an exciting tale of love and delight that leaves audiences breathless. A wedding, gangsters disguised as pastry chefs, and a drunk chaperone are just a few of the ingredients in this delicious farcical treat that is fun for the whole family.
"The Perfect Broadway Musical." —New York Magazine
SPECIAL DATES:
Opening night, September 7: Guests will be treated to a post-show celebration with the cast and crew!
Saturday, September 8 : Guests are invited to a post show talk back.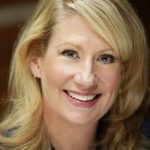 OCTA is thrilled to announce that we will be hosting a talkback with one of the inspirations for, and characters of, the musical The Drowsy Chaperone. On Saturday, September 8th following the performance, actress and comedienne Janet Van De Graaff will join Peter Leondedis on stage and regale us with stories of the show, her movie and stage career, and what it was like performing in high school with Peter. Janet began her career with The Second City in Toronto and has appeared in many movies and television series. She has won three Canadian Comedy Awards, for Best Female Improviser (2002 & 2004) and Best Female TV Performance (for HISTORY BITES in 2002).
CAST
Man in Chair – Peter Leondedis
Robert Martin – Mark Doyle
The Drowsy Chaperone – Kathleen Marx
Janet Van De Graaff – Ashton Botts
Mrs. Tottendale – Peggy Mall
Aldolpho – Matthew Henrickson
Underling – Bill Bergman
George – Fisher Stewart
Kitty – Laura Irwin
Gangster One – Mike Peterson
Gangster Two – Arthur P. Clifford
Mr. Feldzieg – Charles Christesson, Jr.
Trix – Ashley Jones
Superintendent – Don Arnott
Ensemble – Mark McNeal
Ensemble – Dana Wardle
Ensemble – Catie Wolff
CREATIVE TEAM 
Director – Julie Ewing
Music Director – Kevin Bogan
Assistant Music Director – Todd Wiley
Choreographer – Ann McCroskey
Stage Manager – Meghann Deveroux
Assistant Stage Manager – Rachel Phillips
Costume Designer – Heather Stewart
Set Designer – Ken Schmidt
Construction Foreman – Bill Case
Light Designer – Brandon Dupree
Sound Designer – Joshua Finch
Props Coordinator – Abby Wolff
Sound Board Operator – Matt Pollock
Light Board Operator – Brittany Becker
To find out more about the cast and creative team, click here to view bios and headshots.
PLAN YOUR VISIT TO OCTA
Tickets may be purchased with credit card, check, or cash. Free parking is available in the OCTA lot and on the street. Concessions are available for cash or credit donation and may be taken into the theater.