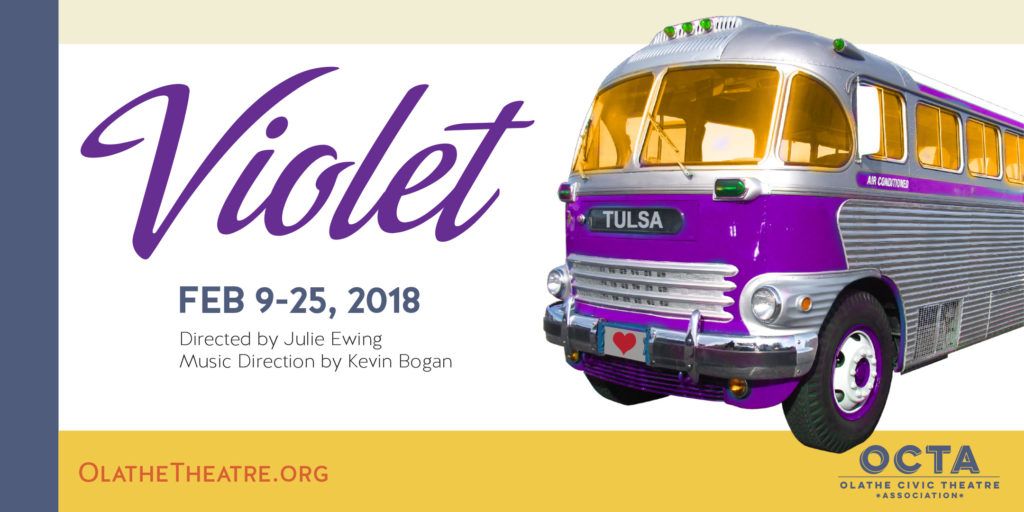 February 9-25, 2018 
Book and Lyrics by Brian Crawley | Music by Jeanine Tesori
Directed by Julie Ewing | Music Direction by Kevin Bogan
Based on the short story "The Ugliest Pilgrim" by Doris Betts
DISCOVERING WHO YOU ARE IS THE GREATEST JOURNEY OF ALL.
A girl with a disfiguring scar sets out from her home in Spruce Pine, NC to seek healing and finds her true beauty along the way. Set in 1964, this stunning show won both the Drama Critics' Circle Award and Lucille Lortel Award as Best Musical for its touching script and show-stopping anthems ranging from American-roots to folk to gospel. Violet is the moving story of a courageous heroine you'll never forget.
AGE RECOMMENDATION
This inspiring contemporary musical is touching, funny and sometimes frank with moments including adult language and subject matter that might be inappropriate for younger audience members. We recommend Violet for patrons ages 14 and older.
Performances are February 9-25, 2018 | Fridays/Saturdays at 8 pm & Sundays at 2 pm
SPECIAL DATES
*Feb 9: Opening night ticket holders will be treated to a post-show party with the cast and crew as well as the board of OCTA to celebrate both the production and the recent updates to the interior of the theatre.
Feb 18: Join us for a special talkback after the show on Sunday, February 18th. Director Julie Ewing and the cast of Violet will talk with Lauren Ward, coming to us live from London! Lauren, a native of Kansas City, created the role of Violet in the original production at Playwrights Horizons in New York City and will share her experiences and stories of the creation of this wonderful musical. Lauren was also nominated for a Tony Award for her role as Miss Honey in the critically acclaimed Matilda, the Musical.
PRESS RELEASE WITH PHOTOS: http://olathetheatre.org/2018-kicks-off-with-violet-at-olathe-civic-theatre-association/
CAST
Click to visit Cast and Production Team bios and headshot album!
Violet: Larissa Briley
Flick: Nathaniel Rasson
Monty: Austin Stang
Young Violet: Bridget Walsh
Father: Michael Scahill
Old Lady, Hotel Hooker: Joy Richardson
Preacher, Radio Singer, Bus Driver 1 and 4, Bus Passenger: Matthew Richardson
Virgil, Billy Dean, Bus Driver 2, Radio Singer, Bus Passenger: Tyler Hileman
Music Hall Singer, Choir, Bus Passenger: Renee Blinn
Leroy Evans, Choir, Radio Singer, Bus Driver 3, Bus Passenger: Matt Pollock
Almeta, Lula Huffington, Choir, Bus Passenger: Ashley Jones
Bus Passengers, Choir: Alyson Golladay, Mark Mcneal
THE BAND
Conductor/Keyboard 1: Kevin Bogan
Keyboard 2: Todd Gregory-Gibbs
Violin: Kim Ico
Guitar: A.J. Bonci
Bass (first weekend): Alan Manning
Bass : Frank Annecchini
Drums : Joel McCoy
PRODUCTION TEAM
Director: Julie Ewing
Music Director/Conductor: Kevin Bogan
Costume Designer: Annette Cook
Set Designer: Ken Schmidt
Light Designer: Zoe Spangler
Set Foreman: Cheryl Singers
Sound Designer: Joshua Finch
Stage Manager/Props: Betsy Sexton
Assistant Stage Manager/Props: Sarah Bergeson
Sound Board Operator: Brittany Becker
Light Board Operator: Aidan Lewis
Dramaturg: Quinn North
OCTA Production Manager: Peter Leondedis
ACCOLADES
"…and enduringly rewarding musical." – The New York Times
 "…a work of great resonance and beauty and joy." – New York Magazine
"…The Broadway musical we've been waiting for has arrived!" – Newsday
ACKNOWLEDGEMENTS/THANKS
Set Construction – Jon Bakker, Bill Case, Mark McNeal, Joe Lewis, Brian Robison
All Star Awards
Zach Bradrick with Uhlig LLC
Christian Youth Theater
The family of Jan Conner
Jay Coombes
The Culture House
John Hollan with Stage, Face, and Hair
Bob Kohler and The Barstow School Theatre Department
Leavenworth High School
Ann McCroskey
Prosperity Advisory Group
Steve Scearcy
Summit Theatre Group
Lauren Ward
PLAN YOUR VISIT TO OCTA
Tickets may be purchased with credit card, check, or cash. Free parking is available in the OCTA lot and on the street. Concessions are available for cash or credit donation and may be taken into the theater.  New to OCTA?  Have questions?  Click here!
VIOLET is presented through special arrangement with Music Theatre International (MTI).
All authorized performance materials are also supplied by MTI. www.MTIShows.com