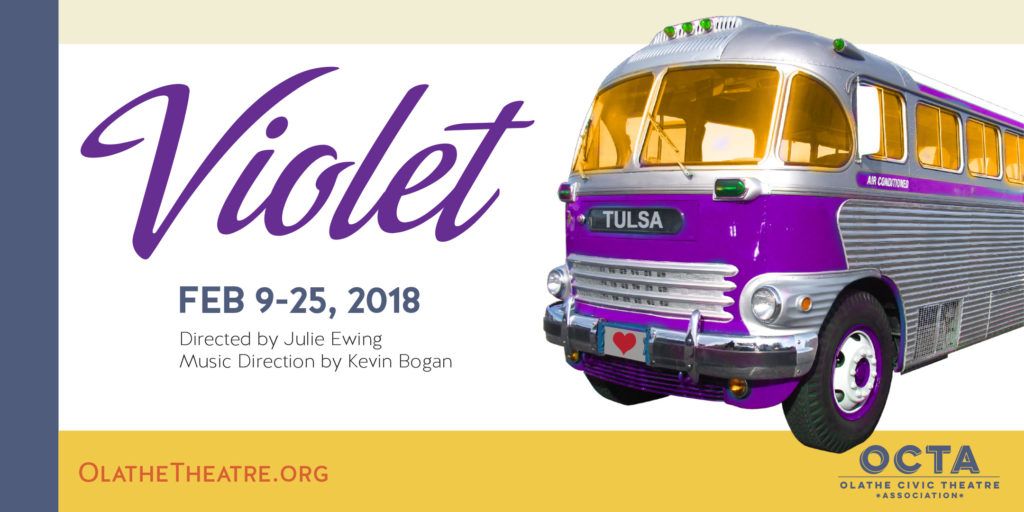 February 9-25, 2018 
Book and Lyrics by Brian Crawley | Music by Jeanine Tesori
Directed by Julie Ewing | Music Direction by Kevin Bogan
Based on the short story "The Ugliest Pilgrim" by Doris Betts
A scarred young woman embarks on a bus journey from her farm in Spruce Pine, North Carolina to Tulsa, Oklahoma in hopes of being healed by a TV evangelist, but discovers the true meaning of beauty along the way. Set in 1964, this stunning show won both the Drama Critics' Circle Award and Lucille Lortel Award as Best Musical for its touching script and show-stopping anthems ranging from American-roots to folk to gospel.
"…an enduringly rewarding musical." – The New York Times
The show runs February 9-25, 2018 | Fridays/Saturdays at 8 pm & Sundays at 2 pm
Tickets are available online now! Season Ticket Members can make reservations by writing tickets@olathetheatre.org or by calling our reservation hotline at 913-782-2990. Indicate preferred date and seats (seating chart). Not a season ticket holder yet, want to save a bundle and see the rest of our shows? Visit: http://olathetheatre.org/2017-2018-season/ for more info!
AGE RECOMMENDATION
This inspiring contemporary musical is touching, funny and sometimes frank with moments including adult language and subject matter that might be inappropriate for younger audience members. We recommend Violet for patrons ages 14 and older.
CAST
Violet: Larissa Briley
Flick: Nathaniel Rasson
Monty: Austin Stang
Young Violet: Bridget Walsh
Father: Michael Scahill
Old Lady/Hotel Hooker: Joy Richardson
Preacher, Radio Singer, Bus Driver 1 and 4, Bus Passenger: Matthew Richardson
Virgil, Billy Dean, Bus Driver 2, Radio Singer, Bus Passenger: Tyler Hileman
Music Hall Singer, Choir, Bus Passenger: Renee Blinn
Leroy Evans, Choir, Radio Singer, Bus Driver 3, Bus Passenger: Matt Pollock
Lula Buffington, Bus Passenger: Emma Cook
Almeta, Choir, Bus Passenger: Ashley Jones
Bus Passengers, Choir: Alyson Golladay, Mark Mcneal
PRODUCTION TEAM
Director/Choreographer: Julie Ewing
Music Director/Conductor: Kevin Bogan
Costume Designer: Annette Cook
Set Designer: Ken Schmidt
Set Builder: Cheryl Singers
Sound Designer: Joshua Finch
Props Coordinator: Emma Loethen
Stage Manager: Betsy Sexton
ASM/Sound & Prop Runner: Sarah Bergeson
ASM/Light Board Operator: Emma Loethen
OCTA Production Manager: Peter Leondedis
SPECIAL PERFORMANCE
Feb 9: OPENING NIGHT! Guests will be treated to a celebration with the cast and crew in the lobby after the show.
PLAN YOUR VISIT TO OCTA
Tickets may be purchased with credit card, check, or cash. Free parking is available in the OCTA lot and on the street. Concessions are available for cash or credit donation and may be taken into the theater.  New to OCTA?  Have questions?  Click here!