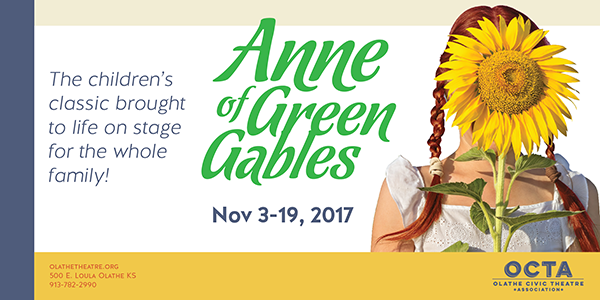 November 3-19, 2017
Adapted by Joseph Robinette from the novel by L.M. Montgomery
Directed by Heather Tinker
This play is a dramatization of the beloved classic by L.M. Montgomery. Whether you grew up reading or watching Anne Shirley grow from an orphan girl to a sophisticated adult, or are new to Green Gables, you will enjoy this live stage version! A traditional coming of age story, Anne of Green Gables is set in Prince Edward Island, Canada featuring many of Montgomery's unforgettable characters. Appropriate for all ages.
CAST
In order of appearance:
Anne Shirley: Tessa Luechtefeld
Station Master/Mr. Phillips/Jerry Buote/Rev. Allan/Mr. Sadler/President of Queen's Academy: Sam Schaper
Matthew Cuthbert: Don Leonard
Marilla Cuthbert: Sally Schmucker
Rachel Lynde: Karla Fennick
Mrs. Blewett/Aunt Josephine: Jennifer Ward
Rev. Bentley/Moody MacPherson: Ryan Foster
Prissy Andrews: Maddie Huwe (Josie Understudy)
Miss Rogerson/Mrs. Allan: Casandra Clark
Diana Barry: Julia Masterson
School Girl/Mary Jo: Elise Bowles (Diana Understudy)
School Girls: Sarah Marvin, Melayna Murphy, Marra Luechtefeld
Mrs. Barry: Misti Robison
Minnie May Barry: Kendal Montgomery
Josie Pye: Rachel Montemayor (Anne Understudy)
Ruby Gillis: Alexa Edmonds
Charlie Sloane: Collin Montgomery
Jimmy Glover: Lincoln Holmes
Tillie Boulter: Madelyn Baxter
Jane Andrews: Addison Landes
Carrie Sloane: Elliana Moore
Bessie Wright: Megan King
Gilbert Blythe: Dentan Adams
Miss Susan Stacy: Hailey Burgess
PRODUCTION STAFF
Director: Heather Tinker
Stage Manager: Emily Martin
Set Designer: Steve Libick
Costume Designer: Alexandra Bonar
Costume Crew: Blake Holden
Lights/Sound Designer: Dave Cox
Props: Lynsie Petersen
Set Construction: Lindsay Boehmer, Alex Wilkerson
Dramaturg: Quinn North
The show runs November 3 – November 19, 2017
Fridays/Saturdays at 8 pm & Sundays at 2 pm.
EXTRAS
Cast/Crew Headshots and Bios on Facebook
Production Photo Album on Facebook
Behind the Scenes "Taking Stage at OCTA" Rehearsal Video
Director's Notes and Q&A with Heather Tinker
The Beauty of Place: OCTA's Anne of Green Gables and L.M. Montgomery an article by Lindsey Weishar
Official Press Release and High Res Photos for Media Use
SPECIAL PERFORMANCES

Nov 3: OPENING NIGHT! Guests will be treated to a celebration with the cast and crew in the lobby after the show!
A talkback is scheduled for after the Friday, November 10 performance featuring Lindsey Weishar and director Heather Tinker. Lindsey, an MFA Creative Writing candidate in Poetry at UMKC, recently visited Prince Edward Island on a grant to study the writing life of Anne of Green Gables author, L.M. Montgomery, and saw the places the beloved author lived in and wrote about.
OCTA HELPING OLATHE
When you come to see the show, you will have an opportunity to give to the Salvation Army of Olathe. OCTA is collecting twin and full sheet sets, deodorant, body wash, toilet brushes, tall kitchen trash cans, full blankets, toilet bowl cleaner, all purpose cleaner, dish soap, laundry soap, bleach, fabric softener, bath towels/wash cloths, sponges, and toothpaste and toothbrushes. These will be donated to families served by our local Salvation Army shelter and outreach center on Santa Fe as part of OCTA's plan to give back. Just bring your donations to the theatre when you attend the show and not only will you make someone's holiday brighter, you'll receive a ticket for a concession item to enjoy during the show (one ticket per household please).
ACKNOWLEDGEMENTS/SPECIAL THANKS
MidAmerica Nazarene University, Alecia L. Stultz, Dennis Hayden, Jennifer Ingraham, Nancy Wallerstein, Katie Gall
PLAN YOUR VISIT TO OCTA
Tickets may be purchased with credit card, check, or cash. Free parking is available in the OCTA lot and on the street. Concessions are available for cash or credit donation and may be taken into the theater.  New to OCTA?  Have questions?  Click here!