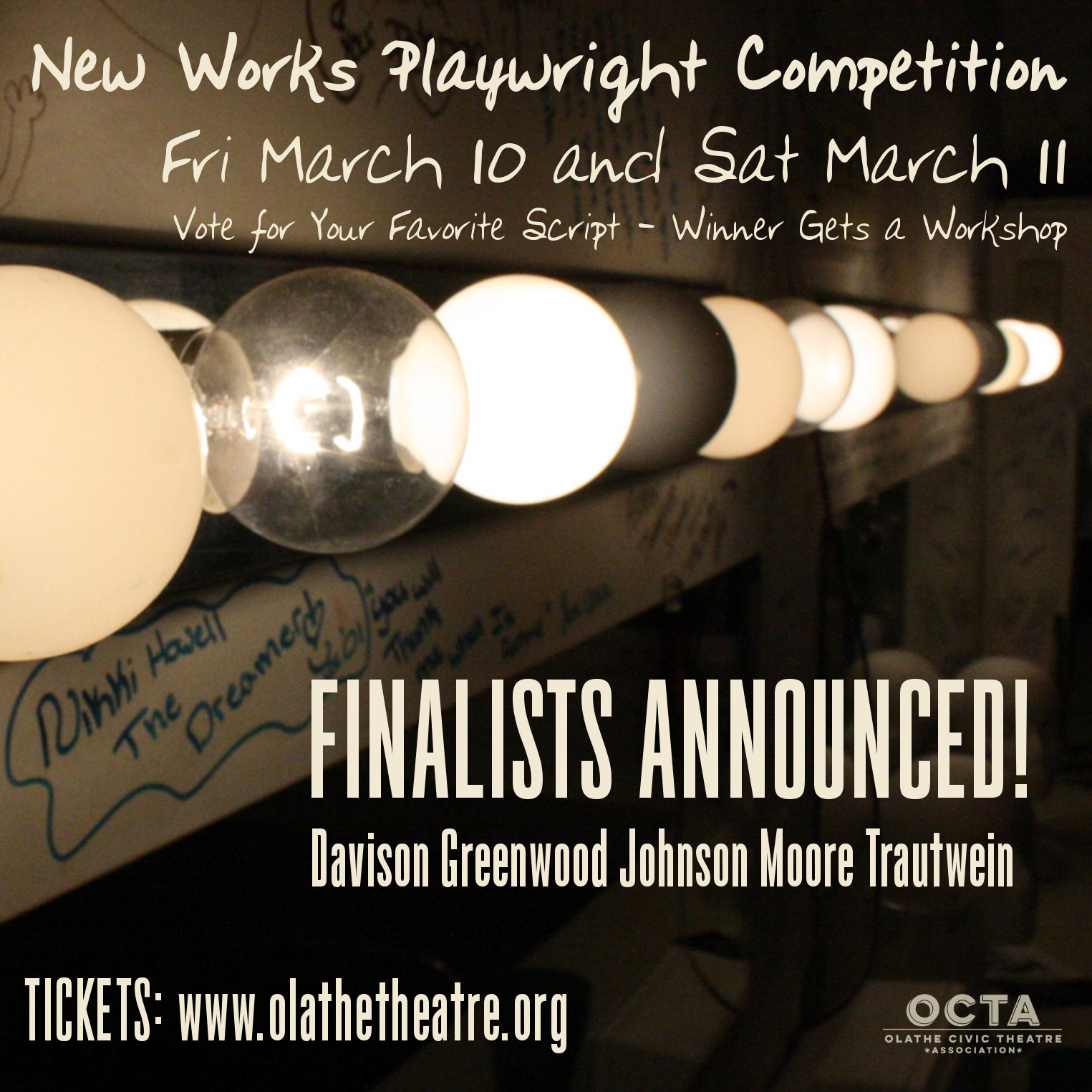 16 Feb

Five Finalists Advance in OCTA's New Works Playwright Competition

Competition Will Highlight Aspiring Local Playwrights This March

Olathe, KS (Feb 16, 2017) – Olathe Civic Theatre Association is pleased to announce the five finalists whose work will be showcased during the theatre's inaugural New Works Playwright Competition March 10 and 11. Audiences will see short teasers of scripts submitted by local playwrights earlier this season and will vote for the script that will receive a full workshop at OCTA this summer. The winner will be announced following the second night of the competition.

But why a competition? Andrew Joseph Brown, OCTA board member, actor, playwright, and creator of the competition, describes his desire to create a new opportunity for local playwrights: "OCTA continues to support local arts and artists, but now we're creating a new platform that provides a safe environment for local playwrights to be heard. This program is unique in that the winning playwright receives a workshop/venue where he or she can implement new thoughts and revisions after seeing how the teaser is received. Their concept then has a chance for a life after the competition. We were thrilled with the number and quality of the entries we received."

Entries received two rounds of review by a play reading committee and were narrowed down to the following five finalists:

"Green Book Wine Club Train Trip" by Michelle Tyrene Johnson | Directed by Teresa Leggard

"The Last Danny Boy" by Jim Moore | Directed by Jenn Ward

"Dissolution" by Lisa Greenwood | Directed by Deb Buckner

"Mr. Grievers Takes a Lunch Break" by Amanda Davison | Directed by Jo Bledsoe Collins

"Revelations" by Derek Trautwein | Directed by Trevor Belt

Tickets are $10 and can be purchased at www.olathetheatre.org. OCTA season ticket holders can reserve specially priced $5 tickets to purchase at the door by calling 913-782-2990 or writing tickets@olathetheatre.org. The competition begins at 8:00 pm each night.

 

About Olathe Civic Theatre Association

Olathe Civic Theatre Association is a 501c3 organization producing theatre in Olathe since 1974. Performing in the Buddy Rogers Family Playhouse, OCTA produces five high-quality, engaging, and thought-provoking theatre productions a year. Through the generosity of volunteers, season ticket holders, donors, and the City of Olathe, OCTA has grown into one of the most progressive community theaters in the Kansas City metropolitan area.

Social and Digital Media

Receive daily updates by 'liking' OCTA's Facebook page at www.facebook.com/olathecivictheatre and follow OCTA on Twitter at @OCTATheatre.

UP NEXT IN OCTA's 2016-2017 SEASON

Poor Relations

February 17 – March 5, 2017 | By Robert Flaherty Hart | Directed by Tina Morrison

A KC Area Premiere!

This original play by Kansas City native Robert Flaherty Hart takes place in suburban St. Louis, where decades-old secrets are uncovered as three adult siblings navigate their changing relationships and uncertain futures. When one of the three comes into a substantial fortune, will it soothe old wounds and lead to forgiveness or drive a permanent wedge into already shaky bonds? Post-show talkbacks with the playwright will be February 19, February 24, and March 4.

New Works Playwright Competition (Special Event)

March 10 – 11, 2017

See 10-15 minute teasers of five plays written by local playwrights. Vote on the one you'd like to see workshopped as a full-length play on the OCTA stage!

Vanya and Sonia and Masha and Spike

April 21 – May 7, 2017 | By Christopher Durang | Directed by Nino Casisi

Middle-aged siblings Vanya and Sonia share a home in Bucks County, PA, where they bicker and complain about the circumstances of their lives. Suddenly, their movie-star sister, Masha, swoops in with her new boy toy, Spike. Old resentments flare up, eventually leading to threats to sell the house. Adding to the ensemble are sassy maid Cassandra, who can predict the future, and Nina, a lovely young aspiring actress.
2017-2018 SEASON ANNOUNCEMENT
 Ruthless! September 15–October 1, 2017
Book and Lyrics by Joel Paley | Music by Marvin Laird
Directed by Jay Coombes | Music Direction by Tim Braselton
---
Anne of Green Gables November 3-19, 2017
Adapted by Joseph Robinette from the novel by L.M. Montgomery
Directed by Heather Tinker
---
Violet February 9-25, 2018
Book and Lyrics by Brian Crawley | Music by Jeanine Tesori
Directed by Julie Ewing | Music Direction by Kevin Bogan
---
Superior Donuts April 6-22, 2018
By Tracy Letts | Directed by Robert Flaherty Hart
---
Unnecessary Farce June 1-17, 2018
By Paul Slade Smith | Directed by Bill Pelletier
###
Please direct all media inquiries to:  Charlotte Gilman at 913-484-1651 (cell) or asgcroc@aol.com.
For further information or tickets, please visit our web site at www.olathetheatre.org.
Reservations can be made by calling the reservation hotline at 913-782-2990 or by writing tickets@olathetheatre.org.