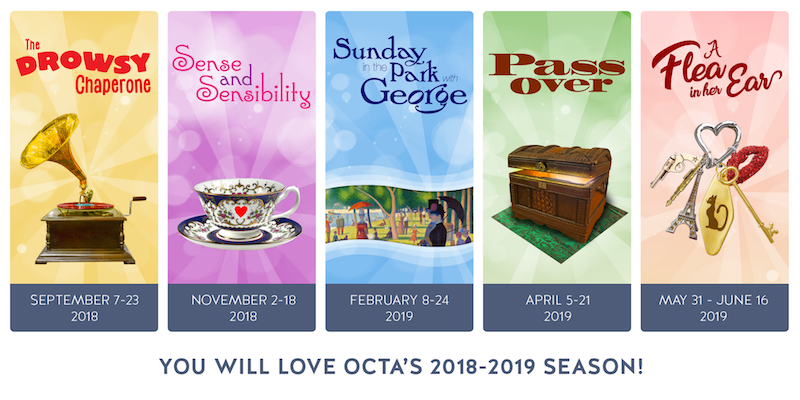 29 Jun

OCTA ANNOUNCES 2018-2019 SEASON

OLATHE, KS (June 25, 2018) – Announcing Olathe Civic Theatre Association's exciting 2018-2019 season of five shows, which begins September 7, 2018.

OCTA is proud to offer two musicals, an adaptation of a classic novel, a contemporary drama by a local playwright, and a landmark farce. "It's our goal every season to select productions that are dynamic, entertaining, and exciting for both our audiences and talent," says Ted Collins, OCTA Board President. He continues, "After considering the incredible options that the many potential directors submitted to us this season, we feel we've successfully achieved this mix."

In addition to the five regular season productions, OCTA will produce two special events: a new holiday revue in December featuring talent primarily from Olathe and, for the third year in a row, the New Works Playwright Competition in March. Details for both will be released a later date.

THE 2018-2019 LINEUP:

The Drowsy Chaperone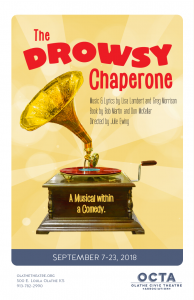 Sept 7 – Sept 23, 2018
Music & Lyrics by Lisa Lambert and Greg Morrison
Book by Bob Martin and Don McKellar
Directed by Julie Ewing | Music Direction by Kevin Bogan
An epic "musical within a comedy", this brilliantly funny Tony Award-winner is a celebration of the American musical that harkens back to the jazz age of the 1920s. When a loyal fan shares a rare recording of his favorite musical, the characters come to life in an exciting tale of love and delight that leaves audiences breathless. A wedding, gangsters disguised as pastry chefs, and a drunk chaperone are just a few of the ingredients in this delicious farcical treat that is fun for the whole family.
"The Perfect Broadway Musical." —New York Magazine
 Sense and Sensibility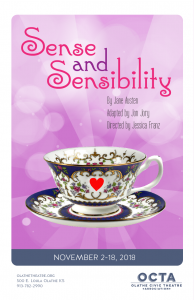 Nov 2 – Nov 18, 2018
An adaptation of Jane Austen's classic novel
By Jon Jory
Directed by Jessica Franz
In this witty comedy of manners, two sisters who are alike only in their pursuit of happiness find themselves financially destitute and socially vulnerable after their father's sudden death. Will Elinor's common sense or Marianne's impulsive passion offer up the key to living "happily ever after"? Expect the unexpected as this spirited tale of flirtation and folly bounds onto the OCTA stage in this boisterous adaptation of one of Austen's beloved stories.
"[Has] a freshness, speed, and … contemporary energy that is downright irresistible." — Chicago Sun-Times
"…a quick-moving and sprightly comedy." — Time Out Chicago
 Sunday in the Park with George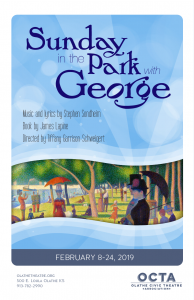 Feb 8 – Feb 24, 2019
Music and lyrics by Stephen Sondheim | Book by James Lapine
Directed by Tiffany Schweigert
A blank page or canvas. So many possibilities. A moving study of the enigmatic artist Georges Seurat and his famous painting, A Sunday Afternoon on the Island of La Grande Jatte, this stunning musical merges past and present into beautiful and poignant truths about life, love, and the creation of art. Winner of the 1985 Pulitzer Prize for drama and nominated for an astounding ten Tony Awards, this masterpiece by the legendary team of Stephen Sondheim and James Lapine will inspire you long after you leave the theatre.
"…one of Mr. Sondheim's richest and most intricately composed scores." — New York Times
Pass Over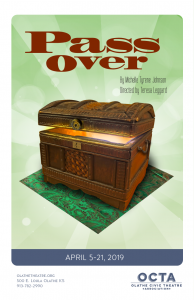 Apr 5 – Apr 21, 2019
By Kansas City playwright Michelle Tyrene Johnson*
Directed by Teresa Leggard
The Washingtons, an African-American family, have lived next door to the Levy family in a Philadelphia neighborhood for a few generations. In the wake of the death of the Washington family matriarch, a brother and sister come together to bury their beloved grandmother. The finding of old stock, by the Washington family, in the Levy family business, triggers the revelation of secrets, tensions, and reckonings.
*Michelle Tyrene Johnson, author of Pass Over, was the winner of Olathe Civic Theatre Association's inaugural New Works Playwright Competition for her play The Green Book Wine Club Train Trip in 2017.
A Flea in Her Ear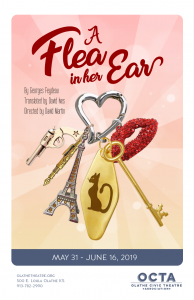 May 31 – June 16, 2019
A new version of Georges Feydeau's farce
By David Ives
Directed by David Martin
As Raymonde suspects her suddenly uninterested husband is having an affair, she cooks up a trap to catch him in the act. Hilarity ensues as everything inevitably goes horribly wrong triggering laughs galore. Touted as the "greatest of French farces", this dazzling comedy, and winner of the 2006 Jefferson Award for best adaptation, David Ives' version of Georges Feydeau's masterpiece achieves levels of glorious ridiculousness only an absurdist of Ives' caliber can bring.
"…a hilarious evening of classic comedy." — Chicago Critic
About Olathe Civic Theatre Association
Olathe Civic Theatre Association is a 501c3 organization producing theatre in Olathe since 1974. Performing in the Buddy Rogers Family Playhouse, OCTA produces five high-quality, engaging, and thought-provoking theatre productions a year. Through the generosity of volunteers, season ticket holders, donors, and the City of Olathe, OCTA has grown into one of the most progressive community theaters in the Kansas City metropolitan area.
Social and Digital Media
Receive daily updates by 'liking' OCTA's Facebook page at www.facebook.com/olathecivictheatreand follow OCTA on Twitter at @OCTATheatre.
NOW SHOWING | UP NEXT AT OCTA

SPECIAL EVENT: New Works Playwright Competition Winner Workshop
July 13 & 14, 2018
Full-length workshop reading of Jessie Salsbury's ADOPTION OF GRIEF, winner of the March finals
Directed by Jo Bledsoe Collins
 About ADOPTION OF GRIEF: An African-American college student seeks answers after her sister unexpectedly dies, having left behind notes indicating that the decedent's daughters are to be adopted into the same white family that her son was secretly adopted by years before. The student must discover the reasons why her sister would trust her children to an unknown white woman, uncovering the difficulties of interracial adoption and dealing with society's view of an "acceptable" family.
 ###
Please direct all media inquiries to:  Charlotte Gilman at 913-484-1651 (cell)or asgcroc@aol.com.
For further information or tickets, please visit our website at www.olathetheatre.org.
Reservations can be made by calling the reservation hotline at 913-782-2990 or by writing tickets@olathetheatre.org.