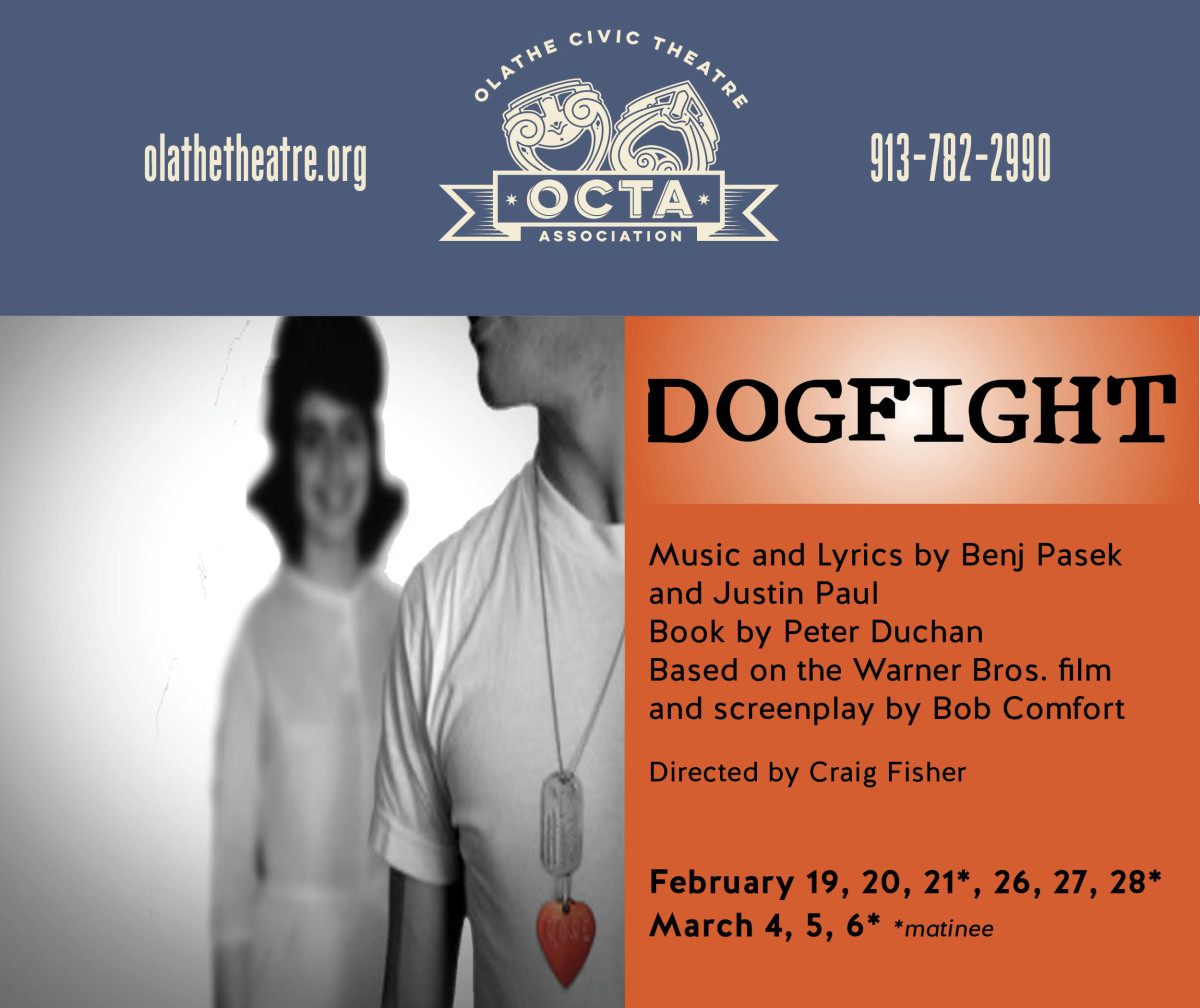 22 Jan

OCTA's "Dogfight" Delivers Thought-provoking Themes

MEDIA CONTACT: Victoria Hoffman
816-728-2048 | victorialatoya72@gmail.com
RESERVATIONS and TICKETS: olathetheatre.org or 913-782-2990

Olathe Civic Theatre Association (OCTA) continues its 2015-16 season with Dogfight, with music and lyrics by Benj Pasek and Justin Paul, book by Peter Duchan, and based on the Warner Bros. film and screenplay by Bob Comfort. The show runs Feb. 19-March 6 and is directed by Craig Fisher.


Set on November 21, 1963 in the early Vietnam War era, Dogfight centers on three young Marines who set out for one final boys' night of debauchery, partying and maybe a little trouble on the eve of their deployment to a small but growing conflict in Southeast Asia. When Corporal Eddie Birdlace meets Rose, an awkward and idealistic waitress he enlists to win a cruel bet with his fellow recruits, she rewrites the rules of the game and teaches him the power of love and compassion. This show has strong adult language and adult situations.

Dogfight Director Craig Fisher is a newcomer to OCTA and says the theatre itself provides a good place for creative freedom. "I like stripping away some of the more flashy elements [of a show] and really getting to the story at the center of the piece. The creative freedom I have with my cast and crew at OCTA allows me to do that with Dogfight," he said.

Fisher also warns that although Dogfight is a musical, the show deals with some heavy but powerful themes.

"I really wanted to get my hands on Dogfight because I feel like while it's a tough subject to stomach and hard to watch at times, it's ultimately about kindness," he said. "I hope people take away the message that even though people will hurt you, it's important to nurture and maintain kindness in yourself and in the people around you. You never know who is broken and might need you."

Starring in the Dogfight cast are Paul Brennan III (Eddie Birdlace), Kelsie Clark (Rose Fenny), Andy Massey (Bernstein), Sam Hay (Boland), Alisha Richardson (Marcy), Maggie Hires (Mama), Simon Schupp (Lounge Singer), Joshua Cuffe (Stevens), Jake Swaney (Fector), Dalton Homolka (Gibbs), Kat Ruprecht (Peggy), Jennifer Ward (Ruth Two Bears), Micayla Miller (Chippy/Suzette), and Kennedy Clinkscale (Stevens' Party Date).

The production team includes Craig Fisher (director/sound design), Susan Hires (music director), Kristine Luthi (stage manager/lighting design), Ben Alford (sound engineer), Sarah Lyons (accompanist), Scott Wilson (set design), and Secily Krumins (costume design).

The show runs for three weekends on Feb. 19, 20, 21, 26, 27, 28, March 4, 5, 6 with Friday and Saturday night performances at 8 p.m. and Sunday matinees at 2 p.m. Tickets and more information are available at olathetheatre.org or reservations may be made by calling the theatre at 913-782-2990.

Next up at OCTA: No Sex Please, We're British and Arcadia.

OCTA Announces its 2016-17 Season! Read about it here.

Stay on top of OCTA news and events by liking us on Facebook or following us on Twitter @OCTATheatre.