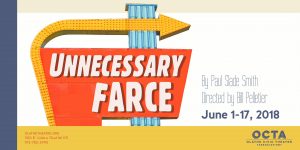 June 1*-17, 2018
By Paul Slade Smith
Directed by Bill Pelletier
Tickets are available online now! Season Ticket Members can make reservations by writing tickets@olathetheatre.org or by calling our reservation hotline at 913-782-2990. Indicate preferred date and seats (seating chart).
In an economy motel room, an embezzling mayor is supposed to meet with his female accountant. In the room next door, two undercover cops are supposed to catch the meeting on videotape. But there's some confusion as to who's in which room, who's watching the video, who's taken the money, and who's hired a hitman. This fast-paced farce is a comic gem!
Read the five-star review from Bob Evans at KC Applauds!
"…a bona fide gut-busting laugh-a-thon." – Daily Herald (Chicago)
(Appropriate for ages 13 – adult situations and some strong language.)
SPECIAL DATES:

Friday, June 15: Stay after for an Unnecessary Party with the cast and crew of Unnecessary Farce at OCTA. You'll have a chance to win up to eight unnecessary door prizes when you play the Unnecessary Raffle…Dollars for Doors. There's a prize behind every door! Raffle tickets: $2 each or 3 for $5.
*Proceeds go towards "Dollars for Doors—The doors that Bill Wright built right."
Cast and Production Team bios and head shots
Production Photos and Press Release
Cast:
Eric Sheridan – Matthew Henrickson
Billie Dwyer – Jessica Franz
Karen Brown – Laura Irwin
Mayor Meekly – Bill Bergman
Agent Frank – Reed Uthe
Todd – Mike Tufano
Mary Meekly – Joyce Halford
Production Team:
Director – Bill Pelletier
Stage Manager – Dk Evenson
Set Design/Build – Bill Wright
Lighting Design – Chuck Cline
Properties Design – Amanda Rhodes
Costume Design – Marla Gonzales
PLAN YOUR VISIT TO OCTA
Tickets may be purchased with credit card, check, or cash. Free parking is available in the OCTA lot and on the street. Concessions are available for cash or credit donation and may be taken into the theater.