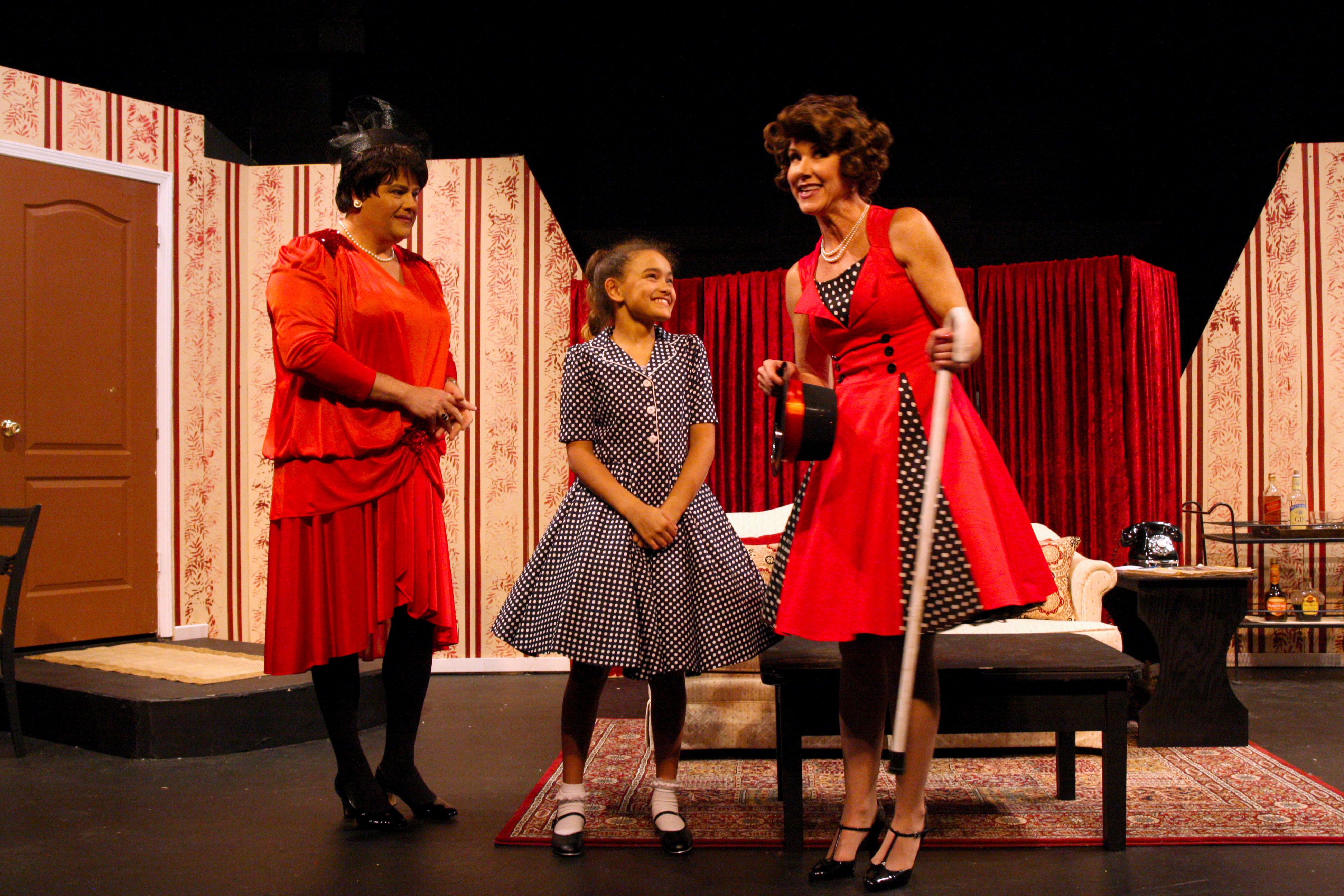 28 Sep

Beyond Parody and Camp: A Closer Look at OCTA's Ruthless! – by Quinn North, Dramaturg

From the moment the spotlight comes up on Sylvia St. Croix (Trevor A. French) it is clear that what you're about to see is no sweet, stereotypical, fluff musical. So say goodbye to your expectations and say hello to Ruthless!, the relentless mockmusical that leaves no theatrical entity safe from its ridicule. In an era where musicals have gained a reputation for their grounding in realism, Ruthless! is a breath of fresh air. Not because the musical is new or because it is not itself grounded in realism, but rather because it leans into that grounding and makes the ridiculous borderline believable.

Ruthless! originally opened Off-Broadway in 1992. And though written for an entirely female cast, a man (Joel Vig) had such a strong audition that they decided to cast him as Sylvia and dress him in drag. The part has been played by a male ever since, as it quickly became part of the appeal of this campy spoof musical. The original cast also featured Natalie Portman and Britney Spears as understudies for the part of Tina Denmark. The musical was revived Off-Broadway in 2015 to rave reviews, and even led to the engagement of Joel Paley, Author/Director, and Marvin Laird, Composer/Music Supervisor, on opening night of the show.

As a dramatic convention, camp works on the basis of total commitment to the realism of the ridiculous. Director Jay Coombes fully embraces the spirit of the show, offering bold vision to a story that could easily fall flat without a committed team behind it and a clear sense of the outlandish nature of the characters in the show. As Coombes puts it, "the glory of Camp is taking huge and absurd choices and making them absolutely believable."

Camp originates in the early twentieth century, the earliest dictionary entries of the word describe it as a characteristic of effeminate homosexual males. However, it quickly evolved to become descriptive of over-the-top acting, particularly when movies came along. Use of camp in modern-day musical theatre is often a harkening back to the exaggerated performances of vaudeville. In fact, you can expect to see several vaudeville-esque performances in Ruthless!, as vaudeville too is not immune from the show's mockery.

Even the music itself is full of similarly over-the-top choices. Laird offers incredibly lofty intros and interludes, played in OCTA's production by a beautifully understated solo piano, to create a musical environment where the ridiculous lyrics feel right at home. The same music would seem to take itself too seriously were it performed with a full orchestra, but using piano alone the music suddenly becomes an agent of that same camp every other element of the show is leaning into. The choice to simplify it to piano, similar to the 2015 Off-Broadway production's use of only piano and auxiliary percussion, transforms the accompaniment into a character of its own, a role that Tim Braselton, music director, plays with grace, poise, and no lack of charm.

Braselton remarks that in his first show at OCTA, Mrs. Bob Cratchit's Wild Christmas Binge, he was "a surly elf who played piano on stage. Not much has changed." This is Braselton's second production of Ruthless! as music director, and Coombes' third production as director. "Each time the players were different so the color and mood of the show change" Coombes states. "That's why I love it. There are so many ways to approach each of these zany characters."

Ruthless! continues through October 1, with performances Friday and Saturday at 8pm, and Sunday at 2pm. Tickets and more info!